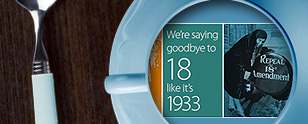 What'll it be – Cup of IT, beer, or shirley temple?  MeriTalk's sister organizations, O'Keeffe & Company and 300Brand, are celebrating 18 years in business.  Our theme, the 18th amendment, prohibition.  Join us to wind the clock back to 1933, when Congress passed the 21st amendment repealing prohibition.
We invite you to help us celebrate our 18th anniversary and the repeal of the 18th amendment at theState Theatre in Falls Church.  The party will feature live Irish music from my good friends at Brendan's Voyage.  Everybody's welcome.
18 years serving our community.  What better way to say thank you to our community for your confidence than throw a party where everybody's invited?  Cheers to 18 years.