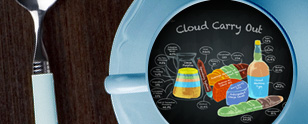 Fluffy comes to mind as good cloud adjective – difficult to define.  But never fear, it's raining cloud metrics this week – and we're bringing you the chance to get face to face with the facts at our November 5th Cloud Connect conference.
Who's Buying What?
While OMB and GAO differ over Federal cloud adoption, MeriTalk released the new Cloud Carry Out report at the Cloud Caucus meeting this week.  The report  profiles Federal shopping behaviors from the GovCloud Shopper (GCS) – the free estimating and acquisition tool we developed with DHS, GSA, and Interior.  Based on some 2,000 GCS users, this analysis breaks out numbers across government, defense, and contractors.
Looking at what applications top Feds shopping lists, 42 percent searched for web and transaction processing pricing – shifting websites makes good sense.  However, 23 percent of searches focused on development and test – DevOps dynamic?  Interestingly, eight percent of searches looked at how much it costs to host big data processing in the cloud.
Considering the size of cloud applications, hardly surprisingly, 40 percent of Feds shopped for small cloud machines.  Twenty-one percent looked to place medium cloud machines in their baskets – with seven percent looking to supersize.  If you've got a taste for new insight, go ahead and clip thecoupon.
Food for Thought
But, the Cloud Carry Out report hardly stole the show at the Cloud Computing Caucus this week – and there's more on the menu.  Three of the four Congressional Caucus co-chairs shouldered their way into the standing-room-only Rayburn building to serve up cloud comments in the wake of the OPM breach.  Representatives Connolly, Lieu, and Walker all pressed for modernization as a protective measure.
And, not to be outdone, Labor CIO, Dawn Leaf, treated the crowd to hard facts and home truths about cloud migration.  Moving to the cloud forces you to do the things that are difficult, but necessary to improve your IT.  She talked about how Labor standardized and upgraded its network to facilitate moving email to the cloud.  Leaf also noted that cloud's bigger email boxes save Labor's 19,000 employees two hours per month, every month.  Consider that RoI.
Tom Sasala, CTO at Army ITA spiced up the discussion, rejected the public, hybrid, cloud menu – noting all applications are either on prem or off prem, and dedicated or shared.
Cloud Connect
If you missed the Cloud Caucus, we're serving up a second course on November 5th at the Cloud Connect conference.  I'm moderating a CIO panel on Hybrid Cloud with Dawn Leaf, Rich McKinney CIO at DoT, and John Skudlarek Deputy CIO at FCC.  Then Dan Verton, MeriTalk executive editor, hosts a CSP panel to serve up what's next in cloud tech offerings.
At MeriTalk, fluffy's not in our vocabulary.  Metrics matter – and it's all on the menu.  Are you hungry for the cloud?