DISA Cloud Pricing – milCloud Laps RACE?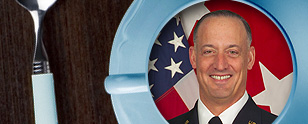 True to their word, Terry Halvorsen and Major General Alan Lynn released milCloud pricing on Friday.  Here's the chance for industry to see the competitor's price card.  Some observations.
Let's start with the definition – milCloud is designed as a more cost effective, modern, and multi-tenant computing model provided by DISA.  It allows a military activity or "partner" to build virtual machines within the protective DoD envelope.
Bottomline Upfront
DISA pricing seems pretty fair for the services being offered, although the pricing structure, particularly storage, seems more expensive when compared against commercial cloud providers.  Compared to RACE, milCloud is an exceptional value.
Big Benefits
Cost savings come from leveraging security provided by DISA.  The milCloud model affords the benefits of DISA's Top Level Architecture in support of NIPR and SIPR connections.  Customers will gravitate to "milCloud Plus," the DoD equivalent of professional services to design, build, and implement a cloud solution.  This includes database and admininstrative support.  A simple pricing structure for 1G NIPR and SIPR connection sets up predictable network costs, in contrast to commercial CSPs whose outbound charges represent a significant X factor.
Questions
Why no volume discounts?  That tips the scales in big deals towards commercial CSPs.  How about more definition around published rates?  In order to understand the milCloud services, you need smarts on the December 2014 revision of the DISA Enterprise Information Services Terms and Conditions.  Why so restrictive on OS options?  Today, limited to MS Windows, Red Hat Linux, and Solaris.  Is DoD uncomfortable with open source?  How about some indication of migration costs in the milCloud pricing model?
Congratulations to DoD for enhancing cloud transparency — and for amping up the competitiveness of its cloud solutions.  You have to ask, why DISA continues to offer RACE?  Or should we say that milCloud is the logical successor to RACE?
Wanna Get the Skinny Directly from DISA and DoD? 
Join us on March 25th at the Newseum for the MeriTalk Data Center Brainstorm to hear from Jack Wilmer, Infrastructure Lead at DISA.  If you're a govie, register for an executive breakfast program with David DeVries, Principal Deputy CIO at DoD.
Hope to see you at the Data Center Brainstorm on March 25th at the Newseum.  Register now, seating is limited.