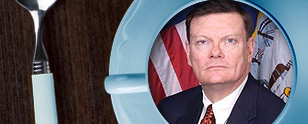 But he's really got it in for data centers, applications, and cost. In a world of posturing and politics, I'd like to take a minute to salute Terry Halvorsen as he steps into Teri's shoes as DoD IT tzar. With the challenges in DoD computing, Terry may quickly develop a bunion. We know he's already recovering from Achilles surgery.
Modernization, the Movie
When acting as the DON CIO, Terry recently spoke at the Data Center Brainstorm and the Cloud Computing Caucus Advisory Group meeting on the Hill. Perhaps I'm losing my mind recommending that you watch a 17-minute video on the web, but if you want insight into DoD's most powerful IT brain, it's 17 minutes well spent. By government IT standards, this movie's an action thriller – and a horror movie for those who dig the failing status quo.
Burn the Ships
No TQM, BPR, or Six Sigma – just straight talk. Navy plans to take $1.3 billion out of its data center spend. To achieve this, Terry cut the data center budget by $1.3 billion. Halvorsen hones in on what's important – and calls out the nonsense of the data center consolidation and counting fiasco. "It's about data center closings – not consolidations. You need to count money, not just data centers. To be clear, savings means that we spent less money – not just cost avoidance." Map this against OMB's double speak on the Hill – it's like music to my ears.
It's the Data, Stupid
Halvorsen grabs the issue by the scruff of the neck – to realize success you need to understand the data in your data center. You need to know your risk – not just cyber risk. This is where those of my readers from Iowa may want to turn off. At this juncture, Halvorsen unleashed on Iowa – maybe he has an allergy to corn? When running older applications, you will likely need your data geographically nearby – so cheap data center space in Iowa may be a false economy.
Killer Apps
"I don't like application rationalization – I like application kill." It doesn't get more real. Halvorsen tells us straight – murdering applications drives down data volumes. Is virtualizing data a good idea? **** straight it is.
Big Enough to Matter
Halvorsen says he's not interested in definitions of data centers. The Navy has 150 data centers that are big enough – read expensive enough – for him to care. Unlike other execs who downplay the cost of labor, Terry tells it straight. The number-one cost in Federal data centers is labor – far and away. He also sparked off about power and facilities costs – and how Uncle Sam needs to rein them in.
Amazon Your Agency
Here's another third-rail issue. Halvorsen wants half the Navy's data housed in commercial solutions. He's pushing public-facing websites to Amazon – and realizing 66 percent in cost savings. Other commercial providers include HP's NGEN.
DISA Data Center Delight
He also applauded DISA's cloud and data center solution – saying it was very cost effective. The Navy is and will continue to run in DISA's data center. We're excited to hear from David Bennett, CIO at DISA, when he keynotes at the September 10 Cloud Computing Brainstorm.
COOP vs. DR
It's not cost vs. mission – it's both. Cost significantly impacts your ability to achieve the mission. Halvorsen finally let up on Iowa as he noted that many applications do not need full COOP – it's very expensive. If you don't absolutely need a hot fail over – and can live with data restoration in five to seven days – here's your chance to take advantage of cheap capacity in Iowa.
Halvorsen's exactly what we need to shake things up in government IT. Again, I encourage you to watch the movie. Two thumbs up for his direct approach. He's going to shake things up in the E Ring. If he has a failing, it may be that obsession with Iowa? Perhaps it's because it's landlocked? Maybe he had a bad experience with a Goldfinch? Do the West Florida Argonauts have it in for the Iowa State Cyclones?