Halvorsen Takes the Hill?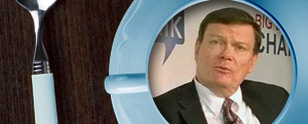 Is DoD marching in double time to the cloud – or MIA on modernization?  That's the question that caused companies to close ranks at last week's DoD industry day at the Commerce Department.  Couldn't get a billet?  You're not alone – many could not get in.  Here's the military intelligence and an opportunity to sign up to witnessHalvorsen drop the second boot on cloud.  Halvorsen, Major General Alan Lynn, Chief Technology Advisor Kenneth Bible, and Deputy Assistant Commandant Thomas Michelli will take the Hill at theCloud Computing Caucus Hillversation on the Hill February 12.
But first, let's reconnoiter the battlefield from last week's industry day.
Data Center Court-Martial
Halvorsen tore the epaulets off traditional data center definitions.  Don't think traditional standalone data dungeons.  Set the data free.  Think joint operations across multiple clouds – with and without dog tags.  "Industry needs to share data…There won't be one single cloud environment."  No encrypted code here – DoD requires joint forces in the cloud.
milCloud Situation Report
milCloud has been at the center of the DoD IT modernization discussion since its launch last October.  Halvorsen said milCloud is too expensive – although he decorated DISA for cutting milCloud costs by 10 percent.  Still, industry wannabe milCloud rivals find themselves in no man's land – nobody knows milCloud's price list.  At the same time, Halvorsen noted the potential to break ranks with DISA and join forces with commercial CSPs as they steel their perimeters and beef up internal security.  DISA's number two, Maj. Gen. Alan Lynn, defended milCloud.  He said active duty milClouds in Alabama and Oklahoma offer cheaper prices and better customer service than at launch.
A River in Fatigues?
Halvorsen took a leaf out of NSA's cloud combat catalogue – asking industry to deliver proposals to OEM commercial clouds inside DoD, effectively putting commercial products in camouflage military uniforms.  Don't dismiss it – at the Navy, the Cloud Commander-in-Chief floated some services up the Amazon.
Defense Goes Offense on Cloud
Like you, the Hill wants to know more.  Join me at the Cloud Computing Caucus Advisory Group at theTop of the Hill on February 12th to hear from Halvorsen, Lynn, Bible, and Michelli.  Will Halvorsen deliver new intelligence on cloud in combat?  Will DISA share its MilCloud price catalogue?  Have the Marines got there first?  Is the coast clear for cloud at Coast Guard?  To the cloud – now's no time to retreat.    Register today.