Hat Trick, Heaven or Hell?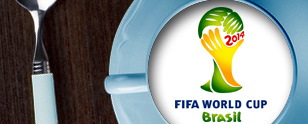 Is it me, or is it slow in Fed IT? Maybe it's because everybody's watching the World Cup? Worldwide viewership is four times that for the Olympics – and global productivity will drop four percent this month.
A hat trick of humor – and perhaps a tear in my saucer this week.
Cloud Country?
Big howdy to Dr. Ron Ross at NIST. He's a real country fan. Gave me a smile by observing that cloud is like Kenny Chesney's famous song – "Everybody Wants to Go to Heaven, But Nobody Wants to Go Now." Now, I don't know much about country, but guess that's better than "I Hold On."
Not Cricket?
What's the world's second largest sport? Baseball? Basketball? Guess my delivery gave it away – watch out for the googley. Yes, it's cricket. If you think football's boring… Kenny Chesney's Seven Days is pretty close. It takes five days to play cricket properly – and that's without commercial breaks.
Three Lions
Okay, I know you lot don't have much time for football – sorry, the real football. But, when England plays in the World Cup – it's damned close to a religious experience for yours truly. This month, the Three Lions took me from Hillbilly Heaven to ***** Tonk Hell. How can England have so many great players and play so rubbish? How can you invent the world's game and get a red card in the first round? I've Got Tears in My Ears From Lying on My Back Crying Over You.
And, if it's bad for the Three Lions, consider the Indomitable Lions. Cameroon had a player sent off – then two of its team got in a dispute, and one head-butted his own teammate. And yesterday, Uruguay's Suarez bit one of the Azzurri – whole new meaning to Italian food.  Why you gotta be so mean?
The whole football world order is out of balance – Davids have felled Goliaths all over Brazil. Form book thrown out of the window. A goal bonanza. Big shout out to the U.S. team. My tip, Brazil or France for the cup – My Cup, anyhow. Please, anybody but the bloody Germans – I've Never Wanted Nothing More.