Is Cloud an Anagram for Cold?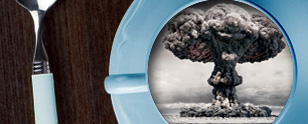 There's an arms race going on like we haven't seen since the Cold War: HP, IBM, Amazon, and Google.  They're knocking together data centers quicker than the price of cloud computing can plummet.  The price of Amazon's web services has fallen by about 50% every three years since 2006.  Where will it end?  Are the new entrants pushing the traditional players into mutually assured self-destruction?  What happens to the customer if the provider goes up in smoke?
What's the price for dot.com stocks?
Anybody else afraid the emperor may be naked?  How quickly will Nero catch a chill if the cloud condenses?  Oh, and I know, cold is only an anagram for cloud if U are in it.