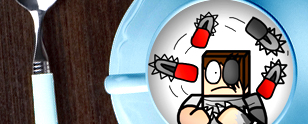 Big data is good. Curing cancer. Trapping terrorists. Avoiding Armageddon.
Cyber leaks are bad. There's a mountain of evidence on that front – we'll call it Snowdonia. Sorry to the Welsh in the audience.
But concentrating intelligence could put big data and cyber security at crossed purposes. So how do we juggle these chainsaws without making a bloody mess?
MeriTalk sat down with 18 Federal big data and cyber security experts to discuss the art of the emerging science. Check out the study for yourself. Too busy? Here's the small data download.

More Synergy than Static?
Big data can make cyber security stronger. Agencies are focused on leveraging the oceans of continuous monitoring data to better detect threat patterns. And, outside cyber security, big data's playing a key role in ferreting out fraud.
Hardly surprising, U.S.-CERT is blazing the cyber trail – utilizing centralized analytics to hex hackers. Far from mailing it in, the Postal Service leverages big data to protect PII, improve mail processing, and stamp out postal fraud.
More Talk than Trousers?
But, beyond these early adopter examples, how much of this is real today – and is Uncle Sam equipped to surf the data torrent without springing a leak in his trunks?
It's fair to say agencies are at different places in the big data equation. Sure, a few of the cool kids are hanging 10, but most are still at or near zero. Leaders are stoked about the potential, but bumming about budgets. Feds lack big data infrastructure and policy. They need to start with the fundamentals – filtering and characterizing data. They need dashboards to integrate input from multiple analytic engines to get to business insight. And, we've heard this before…Uncle Sam needs more highly trained data scientists.

Net Takeaways
Fed big data and cyber security leaders sound the alarm that bigger data sets make elements more sensitive – and amplify risks of unintended consequences. Yes it's risky business, but ignorance is not a sound defense strategy. Read the full report.