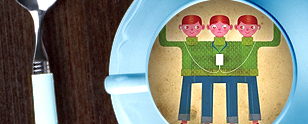 I'm in the middle. I wore my brother's hand-me-downs. I had to sit between my brother and sister on road trips. PaaS is the middle child in the Fed cloud family. Stuck between IaaS and SaaS, all too often, he's overlooked by his Uncle Sam.
At a time when government IT program clangers are dinner conversation across America, maybe it's time to bounce the little fella on his uncle's knee? So, the timing of MeriTalk's new study, "PaaS or Play? Cloud's Next Move," is perfect as we bring our families together to talk turkey.

Different Gravy
The study tells us Uncle Sam can carve $20.5 Billion in savings by developing and testing new apps in the cloud.
Family Feud
Based on a survey of Fed IT execs, the study provides new insight on our dysfunctional Fed app development family. The average application development process takes three and a half years. Forty-one percent of Feds say their agency's applications are outdated and 77 percent say new app development is vital to agency mission success. And, here's the evil stepparent, 50 percent say government's missing out on benefits due to contractor lock in.
Since Sliced Bread…
The study highlights PaaS' potential to rain down benefits Inside and Outside the Beltway. Ninety-two percent say PaaS is vital to broader cloud transition, 90 percent say it's key to FDCCI, 73 percent link it to big-data rollout, 69 percent flag it as mobility mobilizer, and 42 percent say it'll improve security. And, slicing to the business issue that thwarts OMB's big five super programs, 79 percent link PaaS to shared-service adoption.

Are We There Yet?
So if 95 percent of Feds dig PaaS, where are we on implementation? Disappointingly, just 12 percent of Feds say they're using PaaS today. "Why?" I hear you cry. Here's cloud's crazy aunt in the closet again – 67 percent point to security as the spoiler. But, folks who tasted the PaaS pie give it yum-yum reviews. Far from a turkey, 83 percent of PaaS pilgrims say they sailed across the cloud transition with no fear of the Mayflower springing a leak.
Sid Vicious?
Guessing PaaS will become an increasingly appetizing cloud-menu option. Like me, PaaS may be the punk kid, but sometimes the punks rock.