No Such Thing as a Free Lunch?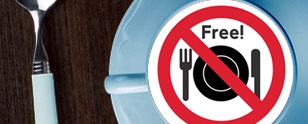 The basis of this idiom is, you get nothing for nothing. Well, I'm going to take a bite out of that one. Next week is Telework Week. And, while the ethics rules are clear about the fact that you can't buy Feds a fancy lunch, it seems Feds will pocket some nice change from Telework Week.
Let's take a closer look at the stats and data side dishes – and remember, these numbers will only get fatter next week. More than 137,000 mobile folks have already pledged to telework on the Mobile Work Exchange site – Mobile Work Exchange is MeriTalk's sister organization. Ninety-nine percent of those pledges are Feds. That's five percent of the Federal workforce. Pledges will avoid driving 6,593,760 miles. Some road trip – that's more than 265 times around the globe.
And, by stepping off the gas, pledges will save a total of $11.7 million during Telework Week – that's $584 million per year. They won't pump 784,000 in gas next week – sorry Exxon. The average Fed will save $85 during Telework Week – which tastes like a $4,255 annual pay raise. And, what goes great with a good meal? Wine [or Whine], but less of it this time. Pledges will save an average of 3.5 hours by cutting out the commute during Telework Week. Less road rage, more time to hug the pillow, walk the dog, and, of course, deliver more value to Uncle Sam and the taxpayer.
Real savings for Feds who haven't had a pay raise in years. Less traffic on the roads. Less pollution in the environment. More time in your day. Seems the oil companies are the only ones who'd say that tastes bad.
Join the movement and pledge to join us next week for Telework Week. Grab your chance to help add calories to these savings stats.
Also, mark your dance card to attend the Mobile Work Exchange Town Hall Meeting on April 10th at the D.C. Convention Center. Join more than 1,000 Federal mobility leaders. We'll serve up the final Telework Week numbers. Stimulating food for thought. Make your reservation today.