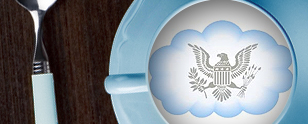 Don't mean to rain on the parade, but what hasn't been said about cloud computing?
How about are Federal agencies making any real progress in cloud and are we saving any money? That, and the new Cloud Computing Caucus, are on the menu as Fed cloud leaders and the Hill huddle at the Newseum in Washington, D.C. on January 16.
Cloud First Consumer Guide
So Cloud First made Feds move three apps to the cloud. But, what did they move and how's it working? Well here's the Cloud First list from OMB. MeriTalk decided to reach out to the Cloud First app owners at the agencies and find out what's working. We'll preview the Cloud First Consumer Guide at a government-only breakfast on January 16, and you'll have to attend to get in the know. Government folks sign up here.
Cloud Computing Caucus
Congressmen Issa (R-Ca) and Connolly (D-Va) want to get to grips with Cloud in a more tangible way. That's why they're co-chairs for the soon-to-be Cloud Computing Caucus. The caucus will make the Hill geek chic – helping members and staff catch up on cloud cool. I'm not supposed to give away too many details before January 16. Want more information? Sign up here.
Cloud Computing Brainstorm
Oh, and I almost forgot, all of this is taking place at the MeriTalk Cloud Computing Brainstorm at the Newseum on January 16. You'll hear from Dave McClure at GSA on the government-wide cloud forecast. Then Fed cloud experts on FedRAMP, cloud brokering, and public and private hosting options.
We've got 200+ Fed cloud experts registered. There are only 20 spots left. Register now or risk getting left out in the rain.