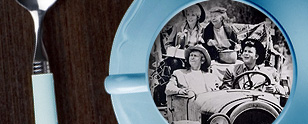 This one's less of a Cup of IT – more like Texas tea, black gold, oil that is. Based on my citizenship exam, three things enshrined in the constitution – freedom of speech, right to bear arms, access to cheap gas. So, I recognize my headline may prove flammable – but here goes.

Barrel of Laughs?
What hasn't been said about falling gas prices? Detroit happy, Putin sad, drivers revving engines in SUVs. But what about the impact on tax revenue and our aging infrastructure? I was concerned that falling gas prices would mean reduced tax revenue – and failing highways/falling bridges. So, I looked at how government taxes gasoline – which funds the Federal highway system. Interesting, it's not a percentage. The Feds pour 18.4 cents on a gallon of gas and 24.4 cents on a gallon of diesel – just my luck, I drive a diesel. The state tax is a sliding scale – but the average load is 30.1 cents. They're equal opportunity discriminators for gas and diesel.
The net here, as best I can tell, government revenue is firewalled off from fluctuations in fuel prices. Ironically, I'm guessing that tax revenues will spike as demand bubbles up.
Oil and Water?
So, what's fueling the price fall? I debated this with Tom Davis and Jim Moran just last week at Don Upson's CES Government conference – quite a program. Is it a war between the shale men and the sheikhs? Theories abound. Most popular, OPEC outflanking the frackers – keeping supply high to burn up US shale oil, which is not viable below $70 a barrel. But, how does that make sense? Surely OPEC is hurting itself in the near term, and the frackers will just start right up again when the price of a barrel of oil hits $70 again – which it surely will.

Double Whammy?
Here's another theory that actually makes good sense. Global demand is down – due to the Brazilian, Chinese, and European slowdowns. As the price falls, OPEC has two choices. One, it can cut production – which means it's hit twice with lower revenue per barrel and lower volume. If OPEC holds back, other producers will step in to fill the world's tank. Or, two, it can continue to pump – increasing volume to make up for the price shortfall. Seems one hit is better than the double whammy.

On the Right Road?
Okay, so here's the heretic thought for the dismount. With gas prices at an all-time low – in real terms –isn't now the perfect time for government to hike the gas tax? We haven't increased gas taxes since 1993. The President signed a $1.1 billion stop-gap bill last August to fund highways for 10 months. Proposed bipartisan Senate legislation to raise fuel tax by 12 cents per gallon ran out of gas. It would have raised $164 billion over 10 years – enough to upgrade our infrastructure and perhaps get us on the right road to new smart highways.
So, now's the time to put the gas tax hike back on the forecourt. As gas prices are down we can produce much needed revenue today – without hitting folks hard in the pocket book. In addition to funding infrastructure – sliding higher gas taxes into the mainstream will start to steer our economy away from our unhealthy gas addiction and stimulate energy innovation.
Even the Clampetts would agree this is no gas matter. Is my analysis too crude? Y'all come back now, y'hear?