Simon Szykman, CIO Commerce – Wingman?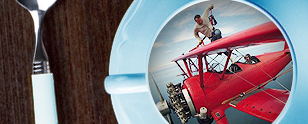 A picture's worth a thousand words. What's it they say about books and covers?
Let's level here – if you ask America for adjectives to describe Feds – risk-taker and innovator wouldn't make the top 1,000. But we know differently. And, on the heels of the shutdown, what better time to recognize Feds' grit and gumption? We're people, not statistics – right?
High Flier?

By day, mild-mannered IT exec, Simon Szykman, CIO at Commerce, likes to walk on the wild side – literally. Check out this snap of Simon wing walking at 2,000 feet. Yep, take a leaf out of Mr. Szykman's book – turn convention upside down. Sorry, I can't resist – Simon's got a whole new perspective on cloud, he's not afraid to make the leap. Evel Knievel, eat your heart out.
Zoom in on Innovators
Keep an eye peeled for the new MeriTalk Zoom feature. Each month, we'll get up close and personal with a new Fed IT exec – new insight on the innovators.
Simon Szykman shows that we shouldn't judge a book by its cover – not exactly sure how that works on an iPad…