The Great Cloud Debate: Public vs. Private – and the ViON Hybrid Model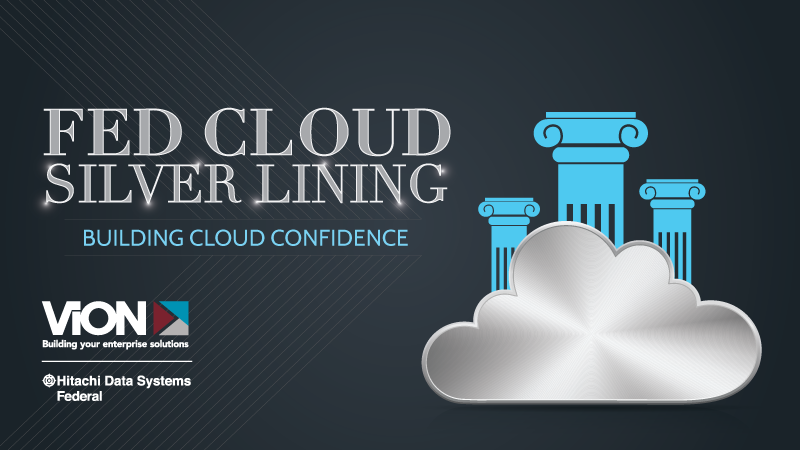 Today, just 13 percent of Feds say they can deploy new systems as quickly as required. And, it's no secret agencies are being pushed to make the move to cloud – whether it's data center consolidation initiatives, flexible performance to meet constituents' on-demand requests,  simply the desire to increase overall IT efficiency, or the demands of the current regulatory environment.
So where do agencies start as they evaluate their cloud options?  Enter the Great Cloud Debate.
For most, choosing the right cloud is more than a black-and-white decision.  In fact, despite cloud growth goals and Fed initiatives, cloud adoption is currently only around 4% of federal workloads.  Concerns about contract lock in, application readiness, data security, data custody, and legacy buying processes are commonly cited as barriers to cloud adoption.
Before making a cloud decision, agencies need to start with the basics – and understand why they want or need cloud. From accelerating the move to an as-a-Service (aaS) consumption model to maximizing budgets to enhancing faster time-to-value, agencies need to define what their factors are for critical mission success and frame their move to cloud into that context.
When it comes down to public vs. private cloud, direct comparison is nearly impossible. The choice boils down to which cloud is the right answer for the agency's unique mission, challenges, and workload requirements.  Issues to consider include performance requirements, availability, security, data custody and control, access patterns, support requirements, available internal skill-sets, speed of deployment requirements, and scalability.
Private cloud is often the best cloud option for Federal agencies. Seventy-five percent of Feds want to migrate more services to cloud, but are concerned about retaining control over their data. Further, agencies estimate 32 percent of their data can't be moved to cloud due to security or data sovereignty issues.
Private cloud offers security, accelerated performance, availability – and importantly, but often overlooked – can be a means to eliminate re-architecting applications to fit into a cloud business model.  Agencies also retain full control of their data. Public cloud promises accelerated deployment, maximum scalability, and simplified acquisition.
That said why not have the best of both worlds?
Hybrid cloud models address agencies' main concern for data security, availability, and control, and still enable high performance and flexibility. By placing data in a private, hosted environment and connecting just the compute side to a public cloud ensures data is secure – putting agencies' nerves at ease. But, the agency retains control of the data and never, for example, needs to pay a fee to remove it from the cloud environment.
ViON's hybrid cloud model enables agencies to experience the benefits of public and private cloud, addressing key concerns of agencies as they approach the cloud procurement process – security, availability, scalability, and cost.
Build Your Cloud, Your Way.
We give agencies a system with a floor and ceiling customized by their needs and budget.
IT teams can select best-of-breed infrastructure elements, customized to deliver the availability and performance required – vs. "take it or leave it" public cloud configurations.
And, they can add capacity – scaling up or down as required to meet constituents' on-demand needs, only pay for what they use, and retain full control over their data.  That's the real silver lining.
This blog post was originally published here.
Learn More:
Business of Cloud eBook
ViON Agile Cloud Solution Portfolio