The Situation Report: T4NG, Revolving Doors, and 400 Million Servers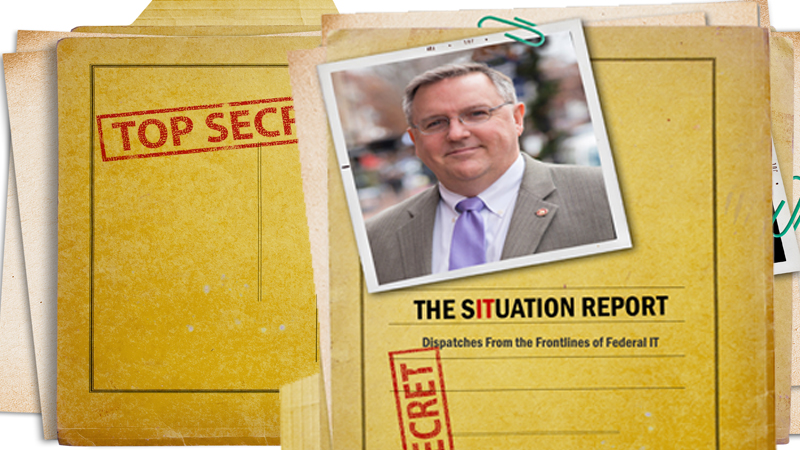 Follow The Money
Democratic presidential front-runner Hillary Clinton on Wednesday said if elected president she would work to "end the revolving door" between Washington and Wall Street. But those aren't the only two locales served by the revolving door—Silicon Valley and the Tysons Corner corridor in Virginia are picking up speed, even if they remain under the radar.
The Department of Veterans Affairs this week announced the $22.3 billion Transformation Twenty-One Total Technology Next Generation, or T4NG, acquisition program. Not surprising, some insiders who spoke to The Situation Report took note not of the size and scope of the contract, but some of its lesser-known political links.
Of the 21 companies selected by VA, several have interesting ties to the agency. For example, Art Gonzalez, the former senior vice president and chief information officer at TISTA Science and Technology Corporation, has spent the last three years at VA as the agency's deputy CIO for service delivery and engineering. Although he just announced his resignation, TISTA was among the T4NG winners. In addition, the Situation Report's intelligence analysts recently discovered that Gonzalez had joined VA in 2013 just one month after the agency cut TISTA a check for $25 million for a financial auditing services contract.
Another lucky winner of the T4NG contract is Booz Allen Hamilton. The Situation Report has been monitoring the chattersphere and has picked up solid signals that Stan Lowe, VA's highly respected former chief information security officer, is now an executive adviser at the company.
Remember Charles De Sanno? We had our analysts run the former executive director for VA Enterprise Systems Engineering through our proprietary data analytics system and discovered that the 25-year veteran of the VA ended up at Systems Made Simple Inc., a Syracuse, N.Y.-based health IT firm that—you guessed it—is one of the recipients of the coveted T4NG contract.
The revolving door between big-money government and big-money industry doesn't stop there. Rob Thomas II, who joined VA last March, was recently promoted by VA CIO LaVerne Council to lead the agency's new Enterprise Program Management Office. Thomas, an obvious choice for the job, brings a lot of experience to the table, including nearly four years as the vice president for enterprise transformation at Accenture—another T4NG contract winner.
Young Global Leader
Larry Page, Sergey Brin, Mark Zuckerberg, Marissa Mayer, Queen Rania of Jordan, and—David Bray of the FCC?
You got that right. My remote eavesdropping station in Davos, Switzerland, has picked up strong indicators that Bray, the FCC's chief information officer, will be named a 2016 Young Global Leader this month by the World Economic Forum.
Well done, David, and much deserved. This is one revolving door that should keep turning.
Needed: 400 Million New Servers
It seems like everybody is taking part in the mad dash to figure out the true impact of the Internet of Things. Well, we might finally have an answer, thanks to Mark Thiele. Signals emanating from Thiele's LinkedIn Pulse indicate that the number of servers that will be necessary to power the IoT will be on the order of 400 million by 2020.
How did Thiele get to that number? He started with the predictions of Gartner and Cisco, which peg the number of connected devices by 2020 at between 20 billion and 50 billion, respectively. To be fair, he split the difference and started with the figure 30 billion—10 billion PCs, servers, laptops, tablets, and phones, and 20 billion net new devices like dishwashers, toasters, weather sensors, connected cars, environment controls, automated lighting, and road sensors, etc.
Thiele then estimated that there are currently about 7 billion devices and 100 million servers in use—approximately one server for every 70 devices.
"Now let's extrapolate the potential number of servers needed based on the assumption that we'll have not 7 billion connected devices, but 30 billion. 30 billion divided by 70 equals roughly 425,000,000 servers. Yes, you read that right, if the numbers follow a historical precedent at all we will need roughly 400 million servers to support our 2020 IoT and technology demands," wrote Thiele.
"Now let's look at what 400 million servers means to data centers. A massive data center with 5,000 racks with 20 servers per rack has 100,000 servers. In order to have enough data centers for 400 million servers we would need to add another 4,000 massive data centers measuring roughly [400,000 square feet] with approximately 50 Mega Watts of power each."
Intercept any signals for The Situation Report? Email them in confidence to dverton@meritalk.com