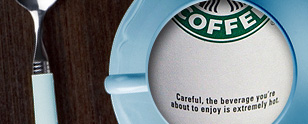 With the snow, don't want you getting frostbite reading this pour on your mobile.  Three short pours.  Caution, the beverage you are about to enjoy is extremely hot.
Pause:  Cloud Chicken?
Think again.  Some new wrinkles in the cloud stuff.  DoD CIO Terry Halvorsen and DISA's Major General Alan Lynn called it like it is at the Cloud Computing Caucus Advisory Group meeting on the Hill last week.  Cowboy up – DoD cloud requirements will continue to change.  For industry, that means ongoing certifications – read greater cost to play.  Halvorsen and Lynn also talked about the emerging requirement for what happens when things go missing in the commercial cloud.  The Pentagon's going to want to root around inside industries' data centers.
The big questions – and, here's the cloud chicken.  What if industry decides it doesn't want to play?  Or more accurately, what premium will DoD have to pay to convince commercial cloud providers to play?  What if that price is more expensive than the legacy systems?  Lastly, Halvorsen wants cloud, but can he afford it – especially if he's bidding against the world's biggest customer, consumerization?
Paws:  Big-Bang Bust Up
Watch out for the claws.  GAO doesn't like the Big-Bang theory – it put IT on the 30 Oversight High-Risk List.  Here come the hearings.  Great time for Tony Scott to take the wheel.  Here's Scott's opportunity to use oversight as leverage to make real changes.
Pours:  It's Nice to Share
More tea vicar?  Senator Carper may be a Target shopper – that's why he's introduced the new Cyber Threat Sharing Act of 2015.  Building on the President's Executive Order – Carper's proposed bill tells us to share and share alike.  Lays out a good framework for industry and government cyber collaboration.  Puts National Cybersecurity and Communications Integration Center – NCCIC – center stage.  Swings at corporate liability barriers, pushes for faster sharing, and stresses the need for government to share too.  The devil lives in the details – curious to see plans to operationalize.  We'll need carrots and sticks to move this stuff forward.
Pause.  Paws.  Pours.  What's cool and what's getting you hot and bothered in Fed IT?