Members of Congress explored the importance of racial and gender equity in the workplace, as well as how the private and public sectors can help the Federal government modernize technology during the ServiceNow 2021 Federal Forum.
Led by Nichole Francis Reynolds, vice president and head of global government relations for ServiceNow, the discussion featured four speakers: Reps. Joyce Beatty, D-Ohio; André D. Carson, D-Ind.; Debbie Wasserman Schultz, D-Fla; and Terri Sewell, D-Ala.
?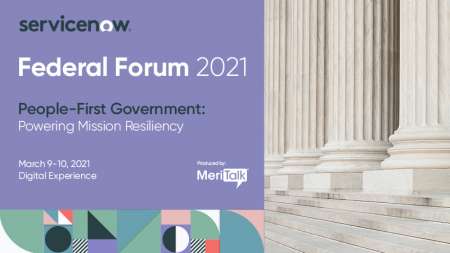 ?Each of the members of Congress is playing a pivotal role in the development of the next infrastructure bill, as well as crafting legislation that will help the Federal government modernize its technology. They are also leading the way to ensuring that Congress is a reflection of America, and will work with the private sector to ensure that they do the same.
Asked how companies like ServiceNow can prepare the Federal government to embrace digital transformation and promote greater equity in IT, Congresswoman Beatty said developing partnerships between the private and public sector is key.
"It's important for companies like ServiceNow to embrace not only the Congressional Black Caucus but also our work in diversity and inclusion and equity," said Rep. Beatty. "I think we can learn from one another. When you think about the age of technology and how we operate and communicate – it's important for us to figure that out and we have to do it together."
Congresswoman Sewell added that both public and private organizations must commit to retaining and promoting a diverse workforce.
Speaking to executives specifically, Rep. Sewell said, "we need to make sure that we are willing to speak up and speak out so that we use our voices to carry our life experiences to the decision-making table … only then can we see real solutions that can affect everyone."
Congressman Carson concurred, reiterating the importance of creating partnerships to strengthen public and private sector relationships.
"We must maintain open lines of communication," said Rep. Carson. "This communication is tremendously important for companies that are unusually susceptible to attacks or interference. They should be vigilant and especially dedicated to maintaining those close relationships."
Private and public sector partnerships have been instrumental in affecting change, added Congresswoman Wasserman Schultz, helping to modernize everything from how constituents receive unemployment benefits to scheduling for the coronavirus vaccine.
"We do have to make sure that the private sector is participating and that partners in a public-private partnership are responsive and responsible," she noted. It's about making sure that people can believe that government can work for them, and that there is someone fighting for them, she added.
The need to modernize technology comes into play on a smaller, human-centric scale for Congresswoman Sewell, who spoke to the need for equitable access to modern resources and technologies, regardless of income bracket.
"I think it's critically important that we use the tax code to incentivize the behavior we want to see, to promote greater public-private partnerships that can benefit people," said Rep. Sewell. "I'm proud, for example, of being a champion for new market tax credits to spur economic investment in our most underserved communities, particularly after COVID-19."
Rep. Sewell pointed to systemic disinvestment in broadband as an example of communities being denied access to critical infrastructure and technologies.
"You need broadband for everything now, for telehealth, or telecommuting, or distance learning for our children," noted Rep. Sewell. "It's now critical infrastructure, just as critical as a telephone is … I'm looking forward to working with this administration and with the private sector to improve access to broadband."
Referring to the theme of the panel – Choose to Challenge – each speaker underscored the significance of working to support one another, from efforts as large as government-industry modernization initiative to those as personal as inspiring one more young woman to run for Congress.
Congressman Carson spoke specifically to empowering women in the workplace. "Having been raised around strong women I understand the importance," he said.
Referencing his work on the Paycheck Fairness Act, Carson noted that women's disparities extend far beyond their careers. "It not only hurts women … it also hurts entire families and stops economic growth," he said, emphasizing the importance of breaking down barriers.
"I know that I stand on the shoulders of amazing people, ordinary people, many known and unknown, who paved the way for so much of the success in civil rights that we've seen in this nation," concluded Rep. Sewell. "Ordinary people who had the audacity to make this country live up to its ideals of equality and justice for all."
"My challenge, each and every day, is to provide resources – better resources, more resources – and better opportunities for the amazing people that I have the honor of representing," she said.
Read More About