Federal IT offices may be at least 24 percent less crowded when CIOs, systems engineers, and data center managers show up for work on the day after Election Day. While most Federal IT professionals plan to vote for Hillary Clinton, they will probably lose colleagues and bosses regardless of who is elected president.
According to a survey conducted by MeriTalk, 24 percent of Federal IT professionals would consider leaving government or retiring if Republican Donald Trump is elected president; 28 percent would consider leaving if Democrat Hillary Clinton is elected president.
MeriTalk surveyed Federal IT employees for this study, 63 percent of whom work for civilian agencies. The other 37 percent work for the Department of Defense or Intelligence agencies. Twenty-seven percent of the responders are non-management IT professionals and 21 percent work as IT directors or supervisors. Forty percent are Republicans and 38 percent are Democrats. Sixty-four percent are male and 70 percent are white.
Although the higher percentage of employees would consider leaving their jobs in the event of Clinton winning, most of the survey participants said they would vote for her: 52 percent plan to vote for Clinton and 32 percent plan to vote for Trump, while 16 percent said they would not vote at all.
According to a recent report from Deltek, a Clinton administration would likely build on and expand many of the IT initiatives established under President Barack Obama. Sixty percent of registered Republicans "believe the next president should fundamentally change course on government IT policies and initiatives" started under Obama's administration; 41 percent of registered Independents agree, as do 21 percent of registered Democrats.
Several Republican leaders have publicly denounced Trump. MeriTalk's survey suggests that, while some Federal IT Republicans refuse to support him, most still plan to vote for him. The survey indicates that 65 percent of registered Republicans will vote for Trump, while 12 percent will not vote. Twenty-three percent of registered Republicans will vote for Clinton, according to the survey.
On the other hand, 87 percent of registered Democrats will vote for Clinton, 8 percent will vote for Trump, and 5 percent will abstain from voting. Fifty-five percent of respondents said that Clinton would do more to innovate IT in the government; 45 percent said Trump would do more to innovate government IT.
According to the Professional Services Council's (PSC) Agenda for the Next President, released Sept. 15, the next commander in chief should mandate IT modernization for the Federal government. The report, supported by PSC members from Grant Thornton, IBM, Deloitte, and others, states that agencies should adopt cloud computing and stop relying on outdated technology.
"Aging IT infrastructure creates a host of problems for government, including spending too much money, falling behind on cybersecurity, and being unable to take advantage of new improvements, innovations and delivery channels," the PSC report states.
Only 3 percent of MeriTalk's survey population said that cloud computing should be the next president's top IT priority. Sixty-seven percent of respondents said that cybersecurity should be the top IT priority, while 19 percent said IT modernization, 10 percent said tech spending and acquisition reform, and 1 percent said partnering with Silicon Valley. The PSC report also states that officials should avoid the "Silicon Valley Only" mind-set and rely on current providers to offer innovation instead.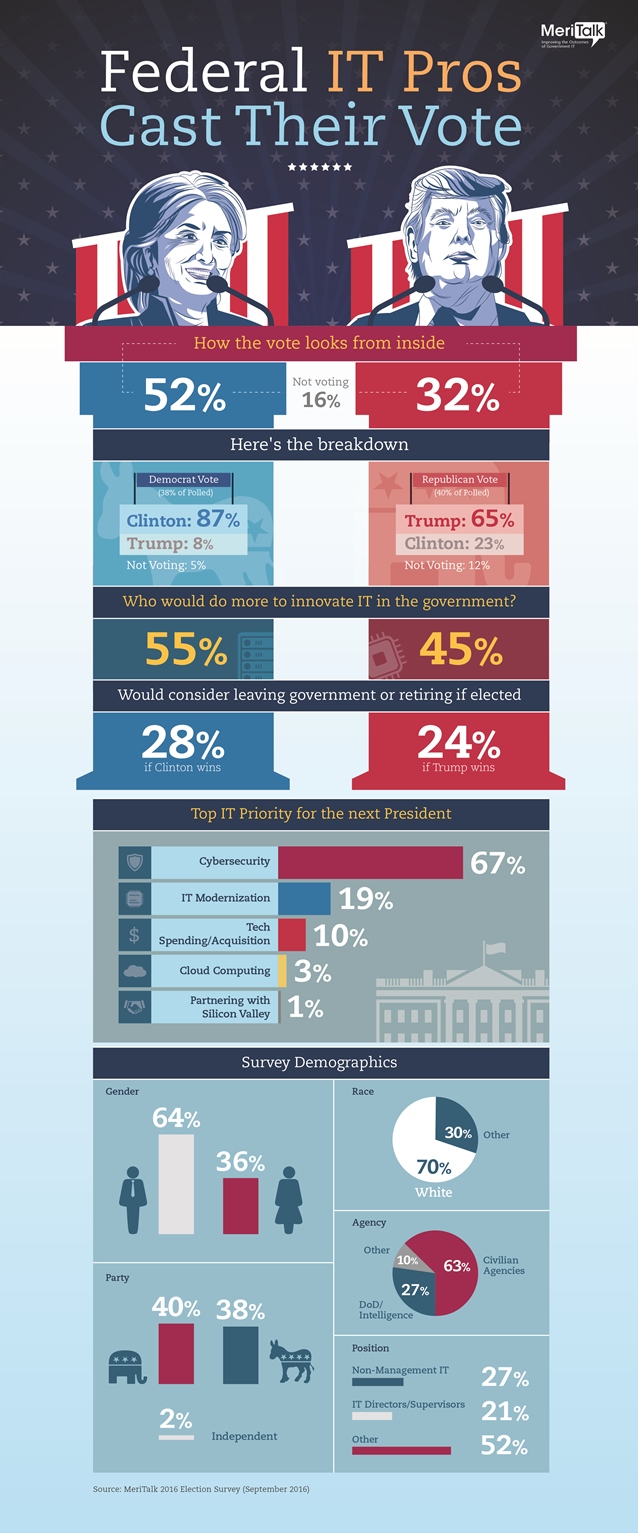 Read More About