As Federal agencies work to implement the Enterprise Infrastructure Solutions (EIS) contract – which offers a governmentwide solution-based vehicle to address Federal agency IT telecommunications and infrastructure requirements – the Department of Labor (DOL) is proving to be among best-in-class agencies at those modernization efforts.
Thomas Flagg, Director of IT Operations and Services at DOL, spoke today about the agency's progress on the EIS transition during FCW's Network Modernization Workshop. Flagg said that they haven't awarded "everything in the world under the EIS" due to the size of the vehicle, but do have six task areas that they've awarded, including cloud services management and trusted internet protocol services.
"So, where is DOL now and how are we doing? You may ask, how this transition has helped or hurt DOL as we work through these things, and I'm happy to report that we've achieved a greater than 50 percent proportional weighted value transition metric back in September of 2020, which was six months ahead of the GSA [General Services Administration] milestone of completing it by March 2021," said Flagg. "This is a key metric from the GSA and GSA assigns a point value for the type of services."
Among other EIS highlights for the agency:
80 percent of telecommunications network circuits for DOL have been transitioned or disconnected;
The agency is ranked second in GSA's Transition Progress Ranking among 17 large agencies;
DOL earned an 'A' FITARA Grade for EIS Transition; and
Two task orders have been awarded for cloud services and unified connections.
Flagg also shared what lessons and best practices DOL has learned to get ahead of schedule with EIS implementation.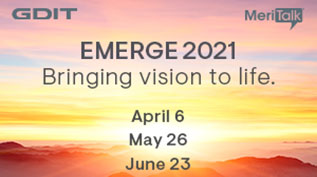 "If I were to share some of the best practices and lessons learned today, from a holistic perspective for us, I would talk about the importance of planning ahead," said Flagg.
"Invest in the enterprise-wide infrastructure solutions, which can benefit the entire organization and will help you reduce your costs, improve security and plan for the future," he said. "This allowed us to transform early and to transition faster, but if we had not issued our unified communication program earlier than transitioning to EIS, this project would have been extremely more challenging."
In addition to planning ahead, Flagg included the following under best practices and lessons learned from DOL:
Engaging and collaborating with GSA;
Being flexible with transition approach;
Utilizing a phased approach;
Reviewing inventory early; and
Ensuring current and future network needs have been identified.
Read More About