President Donald Trump ran his campaign on the promise of a wall that would run the length of the U.S.-Mexico border. While Secretary of Homeland Security John Kelly still does not know what the wall will look like, he said it will probably not resemble the single concrete partition the president discussed.
Kelly, who testified at the Senate Committee on Homeland Security and Government Affairs hearing April 5, said the border wall will probably be an amalgam of physical barriers and technological sensors, including drones and radar. He said that DHS will set up physical barriers at the points where border security chiefs deem walls most necessary.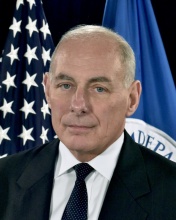 "We're not going to build a wall where it doesn't make sense. What it will look like, how tall it will be, what color it will be is yet to be determined," Kelly said. "It's unlikely we will build a physical barrier from sea to shining sea, but it is very likely that we'll put it where our men and women say we should put it."
The U.S.-Mexico border is almost 2,000 miles long; Kelly stated that 650 miles already contain physical walls. Kelly said that both physical structures and technological devices help stem the flow of illegal immigrants and harmful substances, such as methamphetamine and cocaine.
While Kelly said he will continue to correspond with border security chiefs, he stated it is unlikely their needs will manifest in the form of one continuous wall. He said "the wall" refers to everything from concrete to fences to drones. Sen. Claire McCaskill, D-Mo., agreed with Kelly, stating that Trump is the only person who does not realize a solid 2,000-mile wall is unlikely.
"It's not going to happen. Everyone knows it's not going to happen. Every Republican knows it, every Democrat knows it. It's embarrassing. It makes no sense. It's frustrating to me," McCaskill said. "The president is so stubborn and won't say to the American people 'we're going to use your money wisely.' The sooner we all get honest about this, the better off we are."
How incomers will be received, in addition to what sort of boundaries they will traverse, was another point of concern at the Senate hearing. Part of the president's "extreme vetting" plan involves scanning people's social media accounts for suspicious content and probing their ideological beliefs.
Searching people's devices at ports of entry is not a novelty. According to Kelly, 1 million people come into the U.S. every day, and almost half of them are subject to device searches. Sen. Ron Johnson, R-Wis., stated that 23,877 devices were searched in 2016. Kelly said that, in the past, mobile searches have helped DHS identify pedophiles.
Kelly stated that the "vast majority of people" will not be subject to social media searches and ideological questions. However, McCaskill said these methods will not deter suspicious individuals, but will only show them how they may be searched.
"If they know we're going to look at their phones, and they know we're going to ask questions about their ideology, they're going to get rid of their phones. No terrorist who has the ability to hurt us is going to come in with anything other than a clean phone. And guess what they're going to do with ideology? They're going to lie," McCaskill said. "We're signaling something that's very un-American to the rest of the world."
In addition to bolstering border security, Kelly said he is working to improve the agency's cybersecurity posture. Last year, the Department of Defense hosted Hack the Pentagon, a crowdsourcing initiative challenging technical geniuses to uncover vulnerabilities in DoD's public Web pages. Kelly said he wants to establish a similar program within DHS.
"The answers are definitely not only in Federal government," Kelly said. "They're everywhere."
Read More About