Parents teach their children not to talk to strangers, password protect computers and tablets, and keep their children's Social Security numbers safe, all in an effort to protect their child's privacy. However, when a child is in school, are the right measures being taken to protect student data?
Schools are increasingly integrating technology into the classroom, and while technology can bring great reward, it can also bring great risk. Whether it's an app or online portal, students are being asked to hand over personally identifiable data, and data security measures aren't always clear.
Common Sense Education (CSE), a division of Common Sense Media, is hoping to clarify which educational apps are protecting student data and which ones are lacking. In 2014, Common Sense Education was approached by a group of CIOs and instructional technology directors representing eight major urban school districts around the country. The CIOs and instructional technology directors, who represented more than 2.3 million students, were responding to concerns from parents and school boards about students using digital tools in school for which clear privacy information was not readily available.
With these concerns in mind, CSE developed the Privacy Policy Browser to help all stakeholders better understand the digital tools students are using. When evaluating digital tools, CSE examines each digital tool from a quantitative and qualitative perspective. Meaning, different tools have a right to ask for different information. The example provided by CSE makes the difference clear: A student information system would need to ask for a student's address, however, a calculator app has no need for that information.
The overall evaluation process has five key steps:
Step 1: Retrieve privacy policies.
Step 2: Complete transparency review.
Step 3: Complete qualitative evaluation.
Step 4: Highlight the qualitative responses that best demonstrate both the strengths and concerns of the app regarding privacy and security practices.
Step 5: Prepare a summary evaluation that highlights how the app manages privacy and security in these categories: Digital Footprint, Advertising and Data Profiling, Information Security and Data Breaches, and Legal Compliance.
The new tool easily allows parents, teachers, administrators, and students to search the technologies they use regularly. While many apps aren't yet available on the Privacy Policy Browser–it only launched earlier this summer–there are evaluations for a few popular apps. Does your child or student use any of these? Click here to read the full evaluations.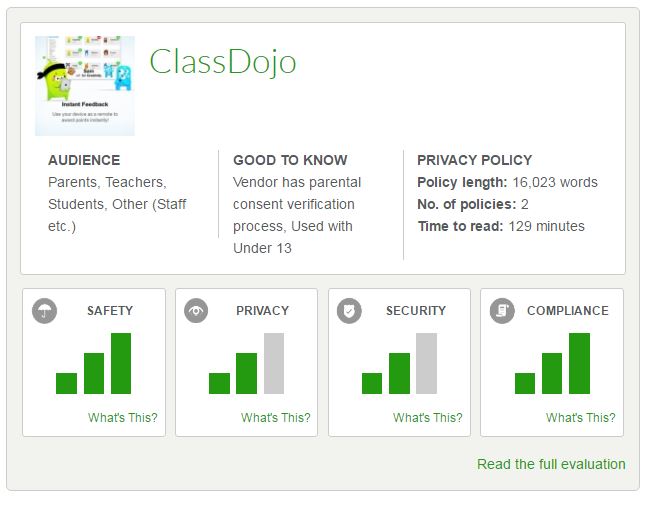 Read More About