Federal CIO Suzette Kent and General Services Administration (GSA) CIO David Shive both offered their support for using Technology Business Management (TBM) in Federal agencies at today's TBM Council Public Sector Summit.
For those not familiar, TBM provides a standardized way to categorize IT costs, technologies, resources, applications, and services, as well as informing data-driven decision making around smart IT investment. Proponents of TBM say it helps adapt successful private sector initiatives to improve IT cost transparency within the Federal government.
At today's summit, both Kent and Shive shared why they support governmentwide adoption of TBM.
Using TBM to Increase Transparency
Kent's keynote remarks centered around the President's Management Agenda (PMA), which was released in March of this year. TBM has a starring role in the agenda and Kent broke down how TBM can help drive agency missions.
"The Federal CIO role is about moving things forward–how do we do them differently than we have before," Kent explained. "Improving IT spend transparency is critical."
In the PMA, TBM is highlighted in CAP Goal 10: Improving Outcomes Through Federal IT Spending Transparency. During today's event, Kent reiterated the administration's goal to have the Federal government adopt TBM by FY 2022.
"Why are we doing this," Kent asked at the Summit. "To improve business end-to-end, from the idea to the acquisition to what we actually deliver."
Kent stressed that TBM enables the administration and agencies to make more informed and data-driven decisions.
"We want to streamline reporting and we want to use technology to do that," Kent said.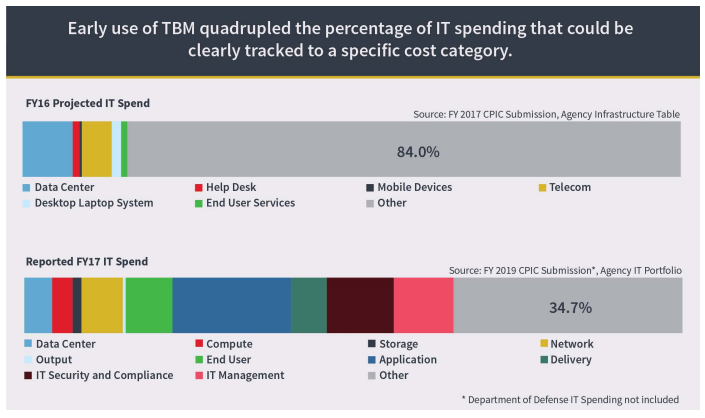 During her presentation, Kent shared the above chart, from the PMA, which documents TBM's early successes in improving Federal IT spending transparency.
"You can see the difference in the level of precision and insights we can gain," she said. Explaining that the administration and agency heads can now ask and answer "What did we spend money on, why, and how did that serve the mission?"
Kent said that agencies must move forward with TBM adoption, but that they must think through their adoptions plans. However, she did stress that "a logical path forward, doesn't mean slow."
GSA's Success With TBM
Shive became interested in TBM well before he was GSA's CIO. Five years ago, Shive, who was running Enterprise Infrastructure and Corporate Systems for GSA, was looking to have better conversations with the executives who led GSA's business units. Shive and the business owners were having trouble tying IT investment to business outcomes, and through research, Shive found TBM and stood up a pilot program.
"We saw some good outcomes on the business side," Shive said. "We were able to shut down 134 data centers and talk about the positive effect of shutting down the data centers. We were able to show cost savings and cost avoidances."
However, GSA's path to TBM was not all smooth sailing. During its journey, the agency hit stumbling blocks and had to pivot and change its strategy. With that in mind, Shive offered up implementation advice for all agencies making the more to TBM.
"Agile, incremental delivery of a thing is the smart thing to do," Shive said. "When you are trying new business things in the Federal government, agile is absolutely the right way to do it. You can make a small, manageable investment in time and dollars and if it's not going well you can recognize it very quickly."
Aside from implementation advice, Shive shared why he is a proponent of TBM. He said he takes his role as a steward of taxpayer dollars seriously and believes TBM enables him to make informed decisions about how to spend taxpayer dollars most effectively to deliver the best possible services to citizens.
"If the information is good, we'll make good decisions," he said about agency leaders. "The TBM taxonomy and the overlay of the process allows me to use the information garnered as a decision engine."
Read More About