Federal government officials earned a collective pat on the back last week when the Office of Personnel Management (OPM) released its 2020 OPM Federal Employee Viewpoint Survey (FEVS). The annual survey shows Federal employee job satisfaction ticked up by three points, to 72 percent, during 2020 despite the dislocations in work life caused by the coronavirus pandemic.
Underneath that top-line figure, however, is a wealth of data that breaks down by individual agencies and offices, and that paints a fuller picture of employee sentiment during the pandemic.
In particular, a deeper look shows that the Department of Energy (DoE) turned in some impressive numbers relative to government-wide totals, including 77 percent favorable scores on big-picture questions including whether DoE is a good place to work, and overall employee job satisfaction.
Dropping one further level underneath that, OPM FEVS data viewed by MeriTalk shows some particularly strong year-over-year score improvements for employees within DoE's CIO office, including numerous single-question results that showed improvements ranging from ten to 25 percent, compared to 2019 sentiment. Those include results for questions including employee engagement, recognition, organizational satisfaction, and whether the employee would recommend the organization.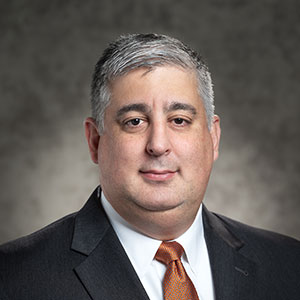 That's where Rocky Campione comes in.
After a short stint as principal Deputy CIO, Campione became CIO at DoE in late July, with the onset of the pandemic less than six months off. We caught up him recently, just after he had left DoE in April for further adventures with AWS, to ask him about what the FEVS scores mean to him, and to ask about management strategies that can help improve employee satisfaction by double-digit rates.
First – and second and third – Campione credits his CIO office team and a wider circle of agency employees for any success that the FEVS improvement may imply. Past that reflexive credit-sharing, however, some themes emerge… 
FEVS Scores
"When I look at the FEVS scores, I think a large portion of it is we had success taking everyone to maximum telework," Campione said. "It became apparent last March that if the OCIO didn't get us to telework, the department was not going to work," he said. "The team did it, and this creates a great deal of job satisfaction."
Campione begrudgingly concedes that his management of the CIO office might have had a little bit to do with FEVS score improvements, but also credits his predecessor Max Everett for "building the foundation … we just had to execute on it." He added, "because we executed, folks knew they could work in a safe environment."
"There is pride in doing this," he said.
Teamwork 
"We came together as a team to deliver" during the pandemic on a host of issues include telework, electric grid protection, security improvements, and supplying supercomputing assets to support the search for COVID-19 cures, Campione said.
"If I get to play a small part in that by setting the parameters of 'here's what we are doing,' that's fine," he said. "In the CIO's office we are about solving problems and getting the mission done … I didn't come up with solutions on my own, we did it as a team, and that's the concept."
"We put together a leadership team that cares about people, and frankly, we were rewarded by that. Everybody delivered, and I'm proud of that," he said. "Ask me what I am going to miss about the government, and I'll say I'm going to miss all the great people."
Campione said he is looking forward to starting his new role with AWS – as U.S. Public Sector Lead for Security and Compliance in the Security Assurance group – but emphasized, "I'll be the biggest cheerleader on the sideline for government. The people in government work their tails off every day."
Managing
"Here's how I like to operate," Campione explained. "I have some ideas, and I say 'here's my concept.' Then I figure if everyone around me is smarter than I am, they'll make it better. I listen to their feedback, and we execute."
"I think that's what helps," he continued. "I don't have all the answers, and I never pretend to. I have good ideas, but I know that working as a team we will end up with a better idea."
The key to arriving at the better version of an idea, he said, is good two-way communications, and then getting out of the way and letting people use their expertise on implementation. "I'll listen to people, then let people do their jobs," he said. "It's about asking them how you can support them getting what they need done, rather than telling them how to do it."
The Bigger Picture
The Federal government may seem like an impossibly big place, but in the CIO ranks it's a much smaller world, and one in which tech leaders leaned on each other especially early on in the pandemic for advice and help.
Praising the well-documented efforts by the Federal government IT community to improve security for health care agency assets as cyber attacks ramped up during the pandemic, Campione offered a little bit of personal flavor on that shoulder-to-shoulder effort.
"You want to say to the person you're talking to, thanks for making your cyber stuff work because that was the biggest target for every nation-state cyber thief – let's steal some medical technology, let's steal some vaccine technology, let's screw up their data," he said.
"That was big, big stuff, and everybody was doing their little piece to get us to where we are today, which is really amazing," Campione said. "I don't want to get too weepy about it, but I know how the government works, and I know how it takes a lot of people to get something good done, and then to know you are part of that too."
Read More About