With vaccines rolling out full steam ahead in the United States, Federal agencies can use enterprise service management platforms to manage the remote workforce and processes to prepare personnel and facilities for a safe return, industry experts shared at ServiceNow's 2021 Federal Forum.
One of the first executive orders released by the Biden administration established the Safer Federal Workforce Task Force, which places a focus on protecting Federal workers. Memorandum M-21-15 was issued shortly after to help agencies comply with CDC guidelines.
M-21-15 provides guidance on monitoring employees, facilities, and operations. This includes directives to monitor employee testing and quarantine, cleaning of all workspaces, occupancy limitations, telework requirements, and more.
Kelvin Lovely, principal strategist for employee workflows at ServiceNow, shared that ServiceNow launched their Safe Workplace and Workplace Service Delivery solutions to support efforts to meet the new policies and help customers manage the essential steps.
"These applications assist agencies' return to the office safely, and implement plans on accelerated timelines when needed," Lovely said.
The tool helps leaders assess workforce readiness – all in dashboard form, explained Lisa Goetz, advisory solution consultant for employee workflows at ServiceNow.
Using digital platforms, agencies and departments can survey employees anywhere and provide them with resources.
"Are they in quarantine? Do they have symptoms? Have they been tested and if they haven't, how can you partner with testing providers to give them a one-stop-shop where they can sign up for tests?" explained Goetz. "We also have integration with the CDC to superimpose the current CDC safety status."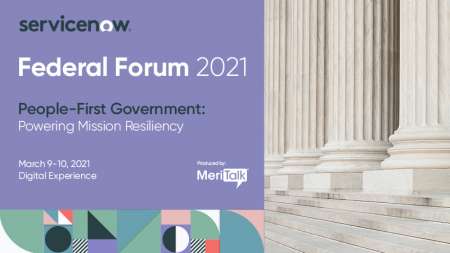 Goetz says these tools not only help decision-makers determine the readiness of their employees and contractors, but also the readiness of Federal facilities.
"Are you going to have a phased approach to allowing people back into your organization? Are you going to have shifts?" Goetz said. The platform can help track this information and implement a plan for workplace safety.
Organizations are facing additional requirements to ensure the work environment is appropriately cleaned and ready for occupancy. The Safe Workplace capability allows leadership to manage the workplace through a series of filters, Goetz shared. They can set capacity limits in office spaces, see cleaning history, or track inventory data.
"Not only can you track the overview of the inventory … but we can also allow your users to request equipment directly from the mobile app," she said.
Goetz explained these requests can be made in the platform with formal reservations – whether for equipment, meeting spaces, parking, or technology assets. This data is tracked to provide visibility into the number of people who enter a space, when a space is reserved, and any issues related to maintenance.
"For example, if there's a problem with the air filtration system or the ventilation system, they can they can quickly submit a request for that," she said.
The platform also allows teams to facilitate cross-departmental requests, ensuring the right people are informed of each reservation and that the task is completed.
These tools provide dashboard reports, real-time data analysis, and metrics on key indicators. "What sites are ready, what sites might not be ready," all of this is included in one platform, Goetz explained.
When it comes to tracking, privacy is a primary concern for all organizations, Goetz said. Users can opt-in with a privacy consent and confidentiality agreement sent through the platform's mobile app or on a desktop.
"The legal language is configurable," she explained, and leaders can decide how the agreement is presented and if they want to make it a requirement for working on site.
With these capabilities, agencies can effectively and quickly implement COVID-19 workplace safety plans for remote work and the eventual return to in-person operations, Lovely said. "This will allow for rapid implementation and faster time to value in a matter of weeks, instead of months or years."
Read More About