Federal and local agencies are embracing drone technology in order to save time and money on their day-to-day operations.
The cost of a police helicopter could add up to $4 million including $800 for each hour that it's flown. A police drone costs $50,000 to $200,000, and a hobbyist drone costs $500 to $2,500. Police departments across the country are considering small unmanned aircraft systems over helicopters as they choose their next major purchases. Small law enforcement agencies are weighing the benefits of hobbyist drones over specially designed police drones, according to Eddie Reyes, Senior Law Enforcement project manager for the Police Foundation.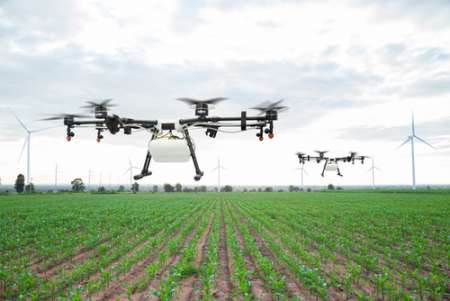 Police are also considering drones because in the aftermath of a road accident, it takes police officers about four hours to survey the scene, but it takes a drone only 15 minutes to do the same job, according to Brian Wynne, president and CEO of the Association for Unmanned Vehicle Systems (AUVSI). This leads to less backup on major roads due to closures and fewer injuries due to police officers being vulnerable as traffic goes by them.
Wynne said at the ACT-IAC Internet of Things and Drones Forum that the drone industry will amass about $82 billion in the first 10 years that it's fully integrated into the airspace. Wynne also said that it will be difficult to determine once the airspace is truly integrated.
The Federal Aviation Administration last year released Part 107, which allows drone pilots to apply for licenses and apply for waivers to any of the defined regulations, including flying at night. The FAA stalled its decision last year to begin talking about allowing for drones to fly over people because there is no system in place to identify a drone's owner once it is in the air. Wynne said that the industry should create a way to identify drones remotely, so if there is a problem, police can notify the pilot.
It's also important for the drones to be "people-friendly."
"How do you make this thing friendly so people want to take selfies with it rather than be totally creeped out?" Wynne said.
Federal agencies use Public Aircraft Operating Criteria to certify their own drones.
The National Oceanic and Atmospheric Administration owns 54 drones, which encompass 20 types, that flew about 200 hours with an average of 20 minutes per flight in 2016. NOAA uses the drones for activities like monitoring fisheries, observing marine mammals, and counting penguins.
"There's not a lot of money in the government for some of these activities," said Phil Hall, emerging technologies officer at NOAA.
Hall said that using drones for these activities helps justify the costs to the government.
Cory Milam, director of the Office of Innovation at the Food and Drug Administration, said that the agency uses drones to inspect factories and farms that produce food for the United States. The agency used to send employees out to inspect every site with a pen and clipboard, which takes a lot of time and personnel.
"We have been doing it the old-school way for so long," Milam said. "We're replacing it with something that's automated."
Milam said that purchasing drones at the beginning can be expensive but it will cut costs over time.
"We're in a climate of cost reduction," Milam said. "From a long-term perspective, I can see it from where I'm sitting but sometimes Congress can't see it from where they're sitting."
Andrew Scharnweber, associate chief of Customs and Border Protection at the Department of Homeland Security, said that his department is planning on standing up its first drone program in September. The drones will be able to assist in situational awareness, identifying bad actors, tracking individuals, and search-and-rescue operations.
Scharnweber said that the 20 border patrol stations that he works with request 250,000 hours of air support annually. DHS has the capacity to provide only 50,000 hours of air support. DHS decided it would be easier to increase its capacity with drones rather than helicopters.
"[Small Unmanned Aircraft Systems] just make a lot of sense for a lot of different reasons," Scharnweber said. "It doesn't take a lot of platforms to get to capacity. Not every hour needs to be a pilot in a helicopter."
Read More About