Rep. Will Hurd, R-Texas, has been appointed to the U.S. House Permanent Select Committee on Intelligence (HPSCI), according to a press release issued Jan. 24.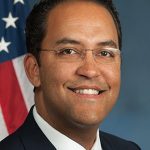 Hurd previously worked as a Central Intelligence Agency (CIA) officer, and is the first representative from his district to be appointed to this committee. He sits on the committees of Homeland Security and Oversight and Government Reform.
"We are living in a dangerous time when our enemies' tactics, techniques, and procedures are continuously evolving. It's the job of Congress to make sure our national security apparatus is ready to meet these threats," Hurd said. "I left an organization I love, and a career I loved and was good at, because I believed I could help the intelligence community in a different way. That's why I ran for Congress. It's exciting to be able to use my experience to develop recommendations with my colleagues on the committee that will prevent terrorist attacks and keep Americans safe."
Speaker of the House Paul Ryan, R-Wis., announced this appointment at the start of Hurd's second term.
"Will is an obvious choice for this committee," Ryan said. "During his first term in Congress, he was a leader on national security and cybersecurity issues, drawing from his personal experience to help educate his colleagues and shape policy. His expertise will be a strong asset as we strengthen our national security policies to protect Americans at home and our interests abroad."
Read More About