The U.S. Department of Health & Human Services (HHS) Office of the Assistant Secretary for Preparedness and Response (ASPR) today created a publicly available interactive map showing the number of Zika virus cases in each state.
The map, which uses GIS software from Esri, will help monitor the spread of the Zika virus across the United States and 34 other countries where cases have been reported. The map will reportedly be automatically updated each week to reflect any new outbreaks.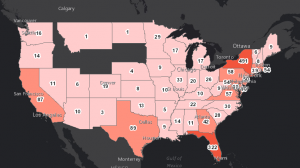 The Esri technology draws on U.S. Census data, and shows ASPR experts where to target prevention efforts, particularly among women of child-bearing age and their partners.  By allowing ASPR to monitor the spread of the Zika virus, they can properly dole out domestic assistance and resources to the states with the greatest number of cases.
Zika virus is spread to people primarily through bites from infected Aedes aegypti mosquitoes or through sexual contact.  The health impact is greatest on growing fetuses, which can develop a serious birth defect called microcephaly.
"Prevention is the first course of action in protecting public health, but people need information to make decisions about what preventive actions to take," said Este Geraghty, chief medical officer and health solutions director, Esri. "Using GIS technology to locate the most vulnerable populations is a first step in educating people on the risks of the Zika virus and about actions that can protect health and curb the spread of disease."
In an interview, Geraghty acknowledged that there are "many Zika virus maps out there…for research purposes, for public education purposes, for planning, and for policy work. With an emerging disease like Zika, that is implicitly spatial in nature, many people find that a map communicates better than any other kind of infographic."
Geraghty says that despite there being a number of Zika maps already in use, their map for the ASPR has a few distinct advantages. "Esri is a complete system with many types of tools that can be integrated with an organization's other business systems in order to inform the work they do. Esri software has more analytic tools, we have incredible data resources, and we have a system that facilitates collaboration."
In an analysis of disease surveillance and control efforts across the United States, Esri found five major challenges to protecting the health of U.S. citizens:
Multiple systems of record for reported infection cases.
Limited access to infection information, particularly in the field.
Difficulty in finding the information needed.
Little to no ability to share information and collaborate across teams.
Difficulty in analyzing infection information in a meaningful way.
They conclude that using GIS technology for disease surveillance and control will help teams overcome the five challenges and more successfully treat and combat diseases like Zika virus.
Read More About