The Department of Defense Cloud Strategy released this week emphasizes the importance of the Joint Enterprise Defense Initiative (JEDI) cloud contract in the computing environment of the Pentagon.
"The primary implementation bias for DoD will be to utilize General Purpose cloud computing," the strategy notes.
As the main "General Purpose" cloud for the department, JEDI will be "the foundational approach to deliver the benefits of a general purpose enterprise cloud for DoD," the strategy notes. The strategy also says that the department's General Purpose cloud requires "an industry partner," apparently reflecting the single award structure seen in the JEDI contract.
For "Fit For Purpose" clouds, the department described its focus on Software as a Service (SaaS) and the milCloud 2.0 environment, aimed at secure DoD applications. The strategy notes that Fit for Purpose will stay true to its name.
"Only when mission needs cannot be supported by General Purpose will Fit For Purpose alternatives be explored. In such a case, a mission owner will be required to submit for approval an Exception Brief to the Office of the DoD CIO describing the capability and why the General Purpose cloud service does not support their mission," the strategy notes.
Existing clouds will also have to go through this rationalization process, with existing services either migrating into the General Purpose cloud, or receiving designation as a Fit For Purpose cloud.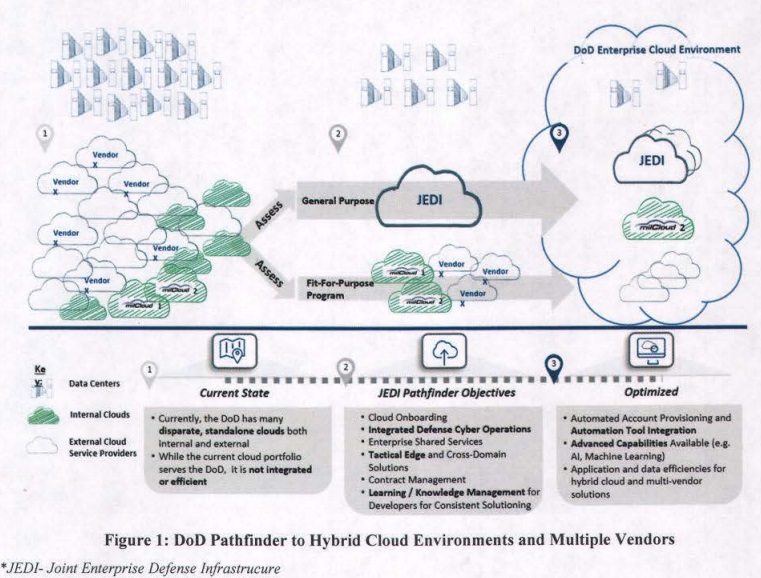 The strategy also notes that while the DoD CIO's office will manage the enterprise cloud strategy, "at some future date, once the General Purpose cloud environment is fully implemented and Fit For Purpose implementations have matured, it is possible that overall leadership could be transitioned to a different organization inside DoD."
The strategy also accounts for the future growth of the Joint Artificial Intelligence Center (JAIC), noting that "a key organizational imperative will be to ensure that the requirements of JAIC and enterprise cloud are being jointly integrated."
Finally, the strategy emphasizes the need to train the DoD workforce on cloud usage, calling for a "basic level of cloud proficiency in order to most effectively exploit the benefits of cloud."
"Just as every Marine is a rifleman, every DoD employee must have basic cloud awareness to effectively operate on the 21st century battlefield," the strategy notes.
Read More About