The White House Office of Management and Budget should drive structural reforms to make big data more accessible, according to Rep. Mick Mulvaney, R-S.C., nominee for President Donald Trump's director of OMB.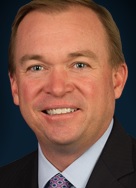 Mulvaney mentioned the Digital Accountability and Transparency Act (DATA Act) at his confirmation hearing in front of the Senate Budget Committee on Tuesday. The DATA Act mandates the creation of a single, searchable source of Federal spending data. The law required OMB and Treasury to establish governmentwide data standards by May 2015. Agencies must begin reporting spending data in accordance with these standards by May 2017 and must publicly begin posting spending data in machine-readable formats by May 2018.
Committee Chairman Sen. Mike Enzi, R-Wyo., asked Mulvaney if there was a way that OMB could clarify the details of the different budget proposals for each fiscal year, including the president's budget, the Senate's budget, the House budget, and the appropriations budget. Mulvaney said that OMB could make those numbers clear by following the provisions of the DATA Act; however, the information has been difficult to pull together and publish.
"It's almost as if the computer systems in the agencies are set up to not even allow the men and women working there to understand how the money is being spent," Mulvaney said.
Mulvaney said that OMB can lead initiatives to make this data more accessible to government employees and members of the public who are interested in following the budget.
"We probably have some of the best big data available anywhere but we can't use it because no one can share it or read it," Mulvaney said.
The Government Accountability Office found in February 2016 that the definitions laid out in the DATA Act were inadequate and "could lead to inconsistent reporting."
Although the DATA Act sets up a new method for financial data reporting, many agencies still must use legacy reporting systems, which hinder accessibility and burden agencies with repetitive tasks, according to a research paper from July 2016.
"It's everyone's and no one's job to turn Federal spending into searchable data," Hudson Hollister, founder and executive director at the Data Coalition and co-author of the paper, said in July. "We need to have a clear signal from Treasury and OMB."
Read More About