America got a first glimpse Monday of what a Republican-led effort to reverse the impact of sequestration on military readiness might look like, and there are some clear winners on the technology front.
Sen. John McCain, R-Ariz., chairman of the Senate Armed Services Committee, released a 33-page white paper detailing a $430 billion increase to the defense budget over the next five years. In addition to increasing spending and boosting the overall size of the military, McCain's strategy calls for a re-balancing of high-tech and low-tech investments.
"Our military's capabilities are also out of balance," McCain wrote. "On the lower end of the spectrum, we need greater numbers of more affordable, less advanced systems to fight terrorist enemies in permissive environments. On the higher end of the spectrum, as nation-state rivals can increasingly counter our military's ability to project power, we need longer-range, more survivable platforms and munitions, more autonomous systems, greater cyber and space capabilities, among other new technologies."
McCain calls on the Pentagon to increase its focus on unmanned systems, artificial intelligence, offensive cyber tools, and many other advanced technologies. "This will require additional funding for research and development," McCain said. "These resources should be focused on developing new capabilities in certain priority areas, including unmanned and autonomous systems, artificial intelligence, robotics, cyber and space capabilities, hypersonic munitions, directed energy, electronic warfare, nanotechnology, and lightweight protective materials."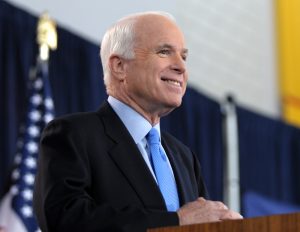 The Defense Department's investments in cyber capabilities during the past five years has gone primarily toward building the 6,200-member Cyber Mission Force. But not enough funding has been made available to develop the tools that this force will need to deter and defeat enemies in cyberspace, according to McCain.
"Just as it would be unacceptable to send a soldier into battle without a rifle, we cannot deprive our cyber forces of the basic tools they need to execute their missions. Recent budgets have omitted funding for even the most basic tools, including for cyber protection teams to assess and triage compromised networks," McCain said.
"While many of these investments will be classified, the development of a unified platform, a persistent cyber training environment, and a cyber situational awareness and battle management system are the first foundational cyber capabilities that must be prioritized and continuously refreshed to ensure that our capabilities are responsive to the continuously changing cyber battlefield," he said. "But if we fail to invest sufficiently in cyber capabilities, we run the risk of creating a hollow cyber force."
Spending on unmanned systems, particularly in the Navy and Army, could see a big boost under a Trump administration if McCain's plan is embraced by the White House. The Navy, for example, is 34 ships short of the joint force requirement of fielding a 308-ship Navy. To make up for that shortfall while production increases, McCain calls on the Navy to focus on unmanned systems.
"Unmanned aerial vehicle technology will be essential to the future of the aircraft carrier and its continued ability to project power," McCain wrote. "The MQ-25 [Stingray] will bring the first unmanned aerial vehicle to the carrier while performing tanking and some intelligence missions. The Navy should accelerate this program to achieve initial operational capability in the next five years."
McCain also calls on the Army to "dedicate more of its resources over the next five years to fielding emerging technologies, such as electronic warfare and unmanned ground vehicles, which could make existing Army units more capable."
Read More About