MeriTalk recently sat down with Guy Cavallo, chief information officer (CIO) at the Office of Personnel Management (OPM), to talk about the major projects his team is moving forward with at OPM to both modernize the agency and improve customer experience (CX).
Cavallo has long been an IT leader within the Federal government, and through a long stretch run in the private sector.
One earlier chapter of his Federal government service includes serving as the first IT Director of the new Corporation for National Service, home of AmeriCorps, in 1993, where he was given a six-month deadline to stand up a tuition reimbursement program for the AmeriCorps volunteers.  He partnered with the private sector and was able to deliver that program on time.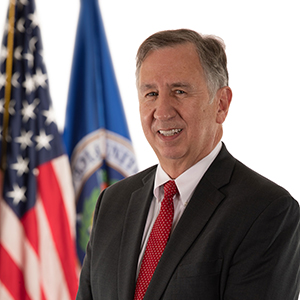 Then, fast forward to the height of the COVID-19 pandemic, and Cavallo helped oversee Small Business Administration (SBA) tech operations in his role as Deputy CIO when SBA was tasked with pumping out billions in emergency grants and loans to help keep the U.S. economy afloat.
The cloud evangelist has served as OPM's CIO for two and a half years now. In the following interview – edited for length – Cavallo discusses his successes in Federal IT, his love for all things cloud, and hefty projects he is currently spearheading at OPM.
MeriTalk: We're hoping you could tell us a little bit about your technology path that has taken you to where you are now. Has technology always been a natural interest, or was it an acquired one?
Cavallo: I'll say it was an unplanned path … I grew up in Arlington and attended Washington Liberty High School. Being in Arlington County, the county invested in obtaining one of the early computer systems available at that time.
When it came time to attend math class, I was given the choice of either attending the math class or getting a chance to work on the ticker tape feed computer. So, when available, I chose to work on the computer and skip math class.  The first program that I wrote, that actually successful ran, was an NFL quarterback performance rating program. This was before the NFL actually produced such data reports. So, while my first experience using a computer was a good decision for starting my technology experience, it was really bad for my college career because I found I was not prepared for college-level math.
Years went by, but then I ended up being an instructor at Xerox Corporation when they invented the personal computer (PC), and I immediately grabbed it and said this is the future. And Xerox selected me to be one of their national PC specialists in its very, very early days of PCs being available.
So, I've had my hands on a business – not hobbyist – PC for as long as anyone could. Then later on in my career I joined Microsoft, where they invented Azure – which was the first publicly available commercial cloud.  Adding to my early PC experience, that means that I have had my hands on "the cloud" as long as any business user could have had.
As you can probably tell, my technology career trajectory was not planned in advance to go from coding NFL quarterback ratings in high school, to ending up on the first PC, and being part of the first cloud, but I am so thankful and excited that my career took this path. And I think that's one reason why I've been so comfortable with PCs and the cloud from the early days, and then I've used them from the time they were first available.
MeriTalk: Is there anything that a typical Federal agency does that maybe shouldn't be hosted in the cloud? And if so, why? And should traditional on-prem networks really be considered a thing of the past, regardless of the mission that they help to fulfill?
Cavallo: There are Federal responsibilities that you still have to do face to face: the post office, food inspections, and there are things that the Federal government provides to our citizens that are best done in person. So obviously, all of those type of functions will not move to the cloud.
But then we look at a traditional legacy data center, with servers and applications running, that ends up being accessed through a web interface – those all should be moved to the cloud, in my opinion, because of the benefits of the cloud for redundancy, elasticity, and the enhanced cybersecurity protections.
The bottom line is – what I push my team on is – if it's not nailed down in the data center, why can't we move it to the cloud? … I will always lean towards favoring the cloud unless there is a very compelling business reason not to.
MeriTalk: What are some other technology projects that you're currently working on at OPM that you're excited about?
Cavallo: I just hosted our OCIO monthly project review, which included almost 100 active projects. We, and the people that work for me, know that I like to keep a lot of things moving at once because I don't believe in doing them sequentially, they've got to be done in parallel. There are several big projects that we're doing now.
We were one of the first agencies to receive zero trust cybersecurity funding. So that's a very big project that will totally change the way that we interact within OPM and with our citizens, and that's well underway.
We also received funding to modernize OPM.gov, which we will move to the cloud and provide a much better CX experience.
We're also building a new health care system for the Post Office employees and retirees as required under the Postal Reform Act. So instead of taking our legacy system and just adding to it, we were taking the opportunity to move it from legacy, on-premise application to being a cloud-hosted application that will be available to all postal workers and retirees in the future.
The requirements are different than the current Federal health benefit system, but we will use the Postal System experience to help us also modernize the Federal Health Benefits System after we're done with the Postal project. Those are several large modernization initiatives.
OPM supports all Federal retirees, whether they were from DoD, civilian government, wherever – eventually everybody relies on OPM for their retirement. As with the other areas that I already mentioned, we're really focused on improving the customer experience of going through retirement.  We will use CX personas to allow visitors to pick which path you need to pursue to be able to quickly find everything that you need.
We have many other projects going on. Some are much bigger than others, but I like to keep my staff engaged and pushing the envelope forward.
MeriTalk: How can you, as the CIO, transform customer experience through technology?
Cavallo: Absolutely and there are a lot of ways to do so. We are continuing to leverage safe agile across the OCIO and also introducing it to the program offices.  Our first big enterprise collaboration project since I've been CIO is the development of that new postal health benefit system.  It has been a great partnership between our program offices along with our technical staff, integrated into workstream teams that are building the roadmap and the user personas that we need to be successful.
Being able to show our program offices minimal viable product versions is being well received.  This is versus the old waterfall development method where the technical team would go away for a year and then bring back the finished product to the program office and say, 'see, we're done,' and hopefully what was built matched what they actually wanted.
That's really been super exciting to see this enterprise progress occur in real time. So, we're adjusting our culture from one where it takes months and months and months for the CIO team to deliver for your program office to wow, I can see every three weeks, every six weeks – I can actually see the progress. So that was very exciting to be able to demonstrate to the program offices.
This is a new CIO organization. We're not the bad taste that you had in the past where it took a year or two to do something and then you didn't want it after we were done. So that's a big accomplishment, a big culture change: to have the program offices see that this agile approach really is worth having with the CIO team.
MeriTalk: Having a CIO team that is not the bad taste that organizations had in the past comes with having good leadership. I noticed that you've received a handful of awards for your leadership skills, often being dubbed as a good boss. So why is being a good boss critical to driving change in the Federal government, especially when it comes to technology?
Cavallo: To me, being a good boss means that I have surrounded myself with the best possible talent that I can hire – and I look for more experience, more knowledge, more skills than I have. I'm always shocked at the bosses that believe that they have to be the smartest person in the room, and therefore they hire skills below them. To me, you can never be completely successful with that approach. In my time at OPM I have hired about 25-30 new, mid-level leaders and executives to add to experience and skill sets.
I make sure they all love working hard because when you work for me, that's what you do. And that they are also very customer centric so that you're working hard, but not running over the customer, you're actually picking them up and taking them on the train ride with you. Communications is a very big part of it, I spend most of my time communicating versus doing technology.
As far as skills that I've brought both from my private sector and public sector time, there really is that need to explain and communicate and show progress and continually validate that your organization is a valuable part of your agency. Everybody knows the experience of going to a restaurant and having a bad meal, and then you'll tell everybody that you've ever met for the next 10 years how bad that restaurant is. The IT organization must continually demonstrate the value that they bring to the agency and their positive impact in meeting that agency's core mission.
It only takes one bad customer experience to get a bad reputation, and so it takes constant communications and reinforcement and delivering. That's the other part, we don't just communicate, we deliver. We've already moved 31 applications to the cloud. When I said we're going to the cloud, it wasn't just a headline. I put the people in place and empowered them to actually get us there. And that's just the start, we're going to be really accelerating this year.
To me, being a good boss means I hire the best people, I empower them, I set the vision and strategic direction on where we need to go, and then I empower them to help get me there in the timeframe that we have agreed upon.
MeriTalk: We talked a lot about some of the projects that you're currently working on, but during your time in all of Federal IT – not just at OPM – is there one project or accomplishment that you are particularly proud of?
Cavallo: You're making that one really hard for me. I'll give you one before I took my 17-year break from the Federal government, and then I'll give you from the time that I came back to federal service.
I was the first IT director of the new Corporation for National Service which was one of the major domestic initiatives of President Clinton. When he announced the launch of AmeriCorps, he also announced that in six months the Corporation would pay the full tuition for all AmeriCorps volunteers at accredited colleges. At that time, I only had a programming staff of two, yet to build the program that the President just announced meant that I needed to basically build a bank and have it ready to operate in six months. So, I called on industry, and I was able to obtain help right away.
To meet that short timeline, we divided the project into two paths.  First we had to build a simple, quick, and dirty solution to allow us to meet the President's six-month goal.  We then also pursued a second track to build the permanent system. By pursuing both paths simultaneously, we were able to meet President Clinton's timeline for the six-month window, while taking longer to build the permanent system, which took an additional 14 months at that point.  I don't think you can ever tell a President wait eight more months for one of your major initiatives to be launched. So that was a pretty cool project that I was proud we were able to deliver.
At SBA with the COVID pandemic impacting the world, Congress passed the CARES Act asking SBA to be able to issue billions of dollars of grants and loans to businesses and citizens within a week or two. Because SBA CIO Maria Roat and I moved SBA to the cloud before the pandemic, we already had the platform and skilled teams in place to build these new solutions.
We actually delivered – within about 10 days – multiple new cloud-based systems that allowed SBA to inject billions of dollars into struggling businesses that kept them afloat during that difficult team. This was an awesome, herculean effort by our team to implement these programs so quickly. If we were not in the cloud at that point, there was no way we could have delivered during that crisis with our on-premise environment.
This effort just was one more example for me on reinforcing the power of leveraging the cloud to deliver citizen services.
Read More About