Microsoft announced that it plans to offer blockchain capabilities for its government cloud offerings, on Oct. 17 at the Microsoft Government Cloud Forum.
"We view blockchain as a major technological advancement with the potential for significant impact in many industries, including the public sector, through its ability to enable verifiable and immutable cross-party computation," said Tom Keane, head of Global Infrastructure for Microsoft Azure.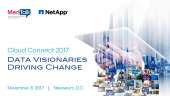 Blockchain creates a digital transaction ledger that is shared among a distributed network of computers. Microsoft said it hopes to release this capability next year.
"Blockchain technologies deployed on Azure are applicable to many complex problems facing government today, including distribution of funds after natural disasters, registration of property ownership, and other issues involving tracking ownership of funds or assets through multiple transactions," said Keane.
Deputy Secretary of State John J. Sullivan said on Oct. 10 that the State Department plans to use blockchain capabilities in its agency reorganization efforts.
"We're interested to learn whether blockchain technology could have direct applications to many of the key features of our proposed redesign plan–for example, in maximizing the impact and accountability of foreign assistance," Sullivan said. "Two major challenges in foreign assistance that blockchain technology could address are, first, corruption, fraud, or misappropriation of funds and, second, inefficiencies within the aid delivery process itself."
Sullivan said that he is interested in developing partnerships with private companies that will help the agencies use blockchain effectively, and that the Federal government is looking for ways that blockchain can strengthen national security, and promote economic prosperity.
"These solutions automate the deployment and configuration of blockchain infrastructure across multiple organizations, allowing our customers to focus on government transformation and application development," Keane said.
Microsoft also introduced other cloud capabilities including Azure Government Secret, which will deliver multitenant cloud infrastructure and cloud capabilities to government agencies working with secret data. Microsoft also plans to offer the government unified security management for hybrid IT networks, expanded high-performance computing capabilities, and new virtual desktop infrastructure options in the cloud.
"We want to make sure they have better tools in their work life as they do in their personal life," said Ron Markezich, corporate vice president for Office 365.
Read More About