The National Institute of Standards and Technology (NIST) and the Department of Homeland Security (DHS) announced the next phase of the "Smart and Secure Cities and Communities Challenge," a partnership to bring together Smart City initiatives and DHS's security expertise and resources, at the Global City Teams Challenge Expo on Aug. 29.
"Today, what we're saying is 'look we have a whole community of cybersecurity researchers nationally and globally that you can touch and tap into. It's time for us to start doing a marriage here between the smart cities community and the cybersecurity and data privacy community,' " said Doug Maughan, director of the Cyber Security Division of DHS's Science and Technology Directorate. "What we're hoping to do with the partnership with NIST is exactly that."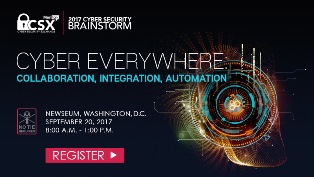 "A smart city application is an integration of critical infrastructures of all types," said Chris Greer, director of the Smart Grid and Cyber-Physical Systems Program at NIST. "And so it's important that these critical infrastructures be not only efficient and effective, but that they be safe, secure, resilient, reliable, and privacy-advancing, in other words, that they be trustworthy as well. And that's the focus of this partnership that we're announcing between NIST and the Department of Homeland Security's science and technology Directorate."
According to Maughan, DHS's Cyber Security Division has four major goals that align with promoting safer smart cities: protecting critical infrastructure; securing .gov IP addresses on state, local, and Federal levels; securing the technology ecosystem; and aiding law enforcement.
"The criminals are going online, our law enforcement community is not used to being online. So how do we create new technologies that help them?" said Maughan. "Our job in Science and Technology is to create new technologies and then to commercialize and make those technologies available. Part of the partnership […] is how we make those technologies available more broadly to states and cities."
Maughan added that his office wants cities working on their smart initiatives to consider the security of all pieces of technology they add to their infrastructure and use.
"Everything you're talking about as it applies to smart cities has a software component," said Maughan. "The question I have for you is, do you know where that software came from? Did you test it? Do you know if it has vulnerabilities? Our job, we believe, is to bring technologies to help you make sure your software is as secure as it can be."
DHS funds a variety of research and grant programs to advance the development of homeland security-useful technologies, such as the Silicon Valley Innovation Program, which funds startups around the country. According to Maughan, his department has a budget of about $90 million to fund new technologies.
"Our goal is to find guinea pigs: people who are willing to be pilot partners to test and evaluate technologies. We actually fund pilots of some of these technologies as part of our projects," said Maughan. "The smart cities environment is a great avenue for testing and evaluating new technologies. That's what we're all doing here as part of Smart Cities. We just want you to think more about the security and the privacy of those smart cities and of those technologies. We're hoping to bring technology to help you."
The Smart and Secure Cities and Communities Challenge will hold a launch event in November, followed by a tech jam in spring 2018. In fall 2018, DHS and NIST will host another expo to celebrate the progress made by smart city initiatives. Participation in the challenge has been confirmed from companies including AT&T, Verizon, and Motorola Solutions.
Read More About