Secretary of Defense Ash Carter today announced a significant expansion of the Pentagon's Silicon Valley-based experimental technology unit, including dedicated funding pipelines, a new partnership leadership structure, and plans to stand up a second unit in Boston.
Speaking at the headquarters of the Defense Innovation Unit eXperimental (DIUx) in Mountain View, Calif., Carter unveiled what he called DIUx 2.0—a major restructuring and expansion of the effort to bring Silicon Valley technology experts into the world of defense research and development. Carter formed the DIUx last year under the leadership of George Duchak, a former program manager at the Defense Advanced Research Projects Agency, or DARPA.
The reorganization will now place DIUx under what Carter called a partnership-style leadership structure, similar to the way many start-up companies in Silicon Valley are formed. The organization will now report directly to Carter, instead of to Frank Kendall, undersecretary of acquisition, technology, and logistics. Raj Shah, the former senior director of strategy at Palo Alto Networks, will become the new managing partner of DIUx. Shah is a former combat F-16 pilot and is now a member of the Air Force Reserve.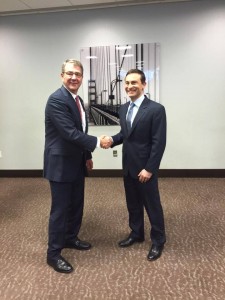 Shah will be joined by Isaac Taylor, who is the former head of Google[X] and has worked on many of Google's highest-profile technology initiatives, including Google Glass and self-driving cars. Chris Kirchhoff joins DIUx as a partner from the National Security Council, where he served as a lead technology strategist and lead author of the White House's big data report. Vishaal Hariprasad is the director of threat intelligence at Palo Alto Networks, and is also an Air Force reservist with previous ties to Shah.
Carter plans to further strengthen ties with the private sector by forming a first-of-its-kind DIUx reserve unit under the direction of Douglas Beck, a Navy Reserve Commander who currently serves as a vice president at Apple and reports directly to Apple CEO Tim Cook. Reservists will work in the technology industry when not serving in uniform.
"We're taking a page straight from the Silicon Valley playbook: We're iterating rapidly to make DIUx even better," Carter said. "As a result of all this great experience and in view of technology's and the world's imperative to stay agile, today we're launching DIUx 2.0."
Plans are already in the works to stand up a similar DIUx office in Boston, Carter said. "We're not just iterating, we're scaling," he said. In addition to a new office, the Pentagon has identified $30 million in new funding, including prize competitions, incubator partnerships and targeted investments.
Carter said DIUx "will be a test-bed for new kinds of acquisition programs with start-up firms."
Wednesday's announcement marks the fourth appearance by Carter in Silicon Valley and the most by a sitting secretary of Defense. It also comes just two months after Carter announced the formation of a Defense Innovation Advisory Board led by Google's Eric Schmidt.
Read More About