IT leaders shared lessons learned from navigating one of the most challenging and important efforts in recent history – managing COVID-19 vaccine distribution and development – at the ServiceNow 2021 Federal Forum.
Deacon Maddox, chief of plans, operations, and analysis for the public-private Operation Warp Speed (OWS) vaccine development effort – shared that the COVID-19 response unit operated with a single focus since it was first announced in the Rose Garden in May 2020 – providing vaccines to the American people.
According to Maddox, the OWS mission was set to develop, clinically test, manufacture, and deliver 300 million vaccines across the country.
"I think we can all be very proud of this unprecedented effort by our country to fight back against disease," said Maddox. "I'm here to tell you we are fighting and winning this war every day."
?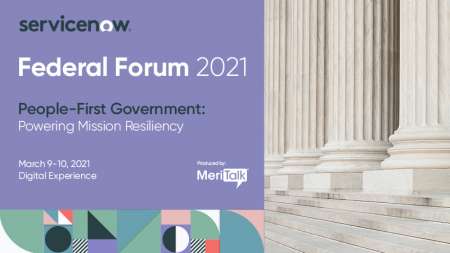 ?Dosage distribution has continued to escalate since the team went live with 2.9 million doses of Pfizer vaccine on Dec. 14, 2020.
"We steadily increased the amount of doses … This week, we're scheduled to ship 23 million doses," noted Maddox. "In April, we'll be shipping 30 million per week, and there's potential to make two more vaccines available by the end of May."
With over 100 million doses delivered each month, Maddox believes the team will meet President Biden's promise to make a vaccine available to every American by the middle of summer.
However, these accomplishments don't come without challenges. Maddox explained the vaccine delivery process was complicated by a series of unknowns.
"We had to contend with unknown emergency-use authorization dates, availabilities, and more," said Maddox. "We are living hand-to-mouth with doses as they come off the conveyor belt. There is no storage. There's no safety stock. It's like a tightrope act without a safety net."
Speaking of navigating the unexpected, he noted, "you need to anticipate that corrections will have to be made."
Some of these challenges were alleviated by connecting various data platforms tracking the spread of COVID-19, the development of vaccines, and vaccine distribution through a service management tool. Maddox's team worked with partners to pull the data sets they knew they needed.
The system, Tiberius, reports on four areas – vaccine allocation, disease terrain and barriers, distribution planning, and trend analytics.
"COVID-19 turned the world upside down but showed us endless possibilities. It changed the way we think about technology and data," said Jonathon Alboum, principal digital strategist for the Federal Government at ServiceNow. "It can no longer be thought of as an overhead cost. It's core to the mission," he said.
Digital service management helped OWS use a mix of commercial and Federal data sets to serve the public. For example, the COVID response system utilizes HHS Protect for disease and hospitalization reporting, HHS BARDA data infrastructure for wholesale inventory, and the CDC immunization data lake for administration.
Maddox emphasized that these modern capabilities made it possible for OWS to effectively manage the vaccine rollout in record timing.
"The vaccines are steady. They are consistent. They are effective. They are safe. We have developed them in rapid time, and they will help our country recover from the pandemic and come out of this stronger."
For agencies looking to build people-centric, resilient government services, Maddox stressed the importance of planning and visualizing success, and having a system in place to accommodate modifications. This, he said, allows teams to operate at peak efficiency.
Read More About