Industry leaders showcased how enterprise workflow management is solving government's toughest challenges and making an impact beyond IT at ServiceNow's 2021 Federal Forum kick-off.
Bill McDermott, president and CEO at ServiceNow, shared how digital transformation, cloud computing, and business model innovation are catapulting public and private organizations forward.
McDermott cited that over the next three years, another $7.4 trillion will be invested in digital transformation. And Steve Walters, vice president of Federal at ServiceNow, explained how that is unleashing a revolution in workflows.
"There's a tremendous need to move to the cloud," McDermott said, highlighting ease of adoption and support for the end-user. "Everyone is coalescing around gorgeous, consumer-grade user experiences that give people what they need."
McDermott shared that solving digital challenges with a service management platform like ServiceNow allows agencies to laser in on the mission. Teams need a one-portal approach that simplifies their daily operations and workflow.
?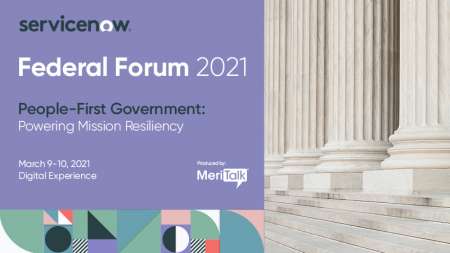 ?"Think about the Army as an example," he said. Earlier this year, the U.S. Army launched a maintenance application using ServiceNow to streamline work orders and manage housing issues. When there is a maintenance issue, employees can take a picture, upload it to a workflow, and immediately remediate the issue, he said. "Our brave warfighters can focus on what they're supposed to focus on," McDermott said.
Beyond workflow, Walters and McDermott discussed how these tools democratize innovation and digitalization. "We're committed to addressing the challenges that our agencies and customers have," Walters said.
McDermott noted that teams can build low-code applications in the ServiceNow platform at a moment's notice. The platform also integrates into the world's 550 largest systems of record, allowing agencies to continue leveraging existing IT investments, he said.
As a response to the pandemic, ServiceNow rolled out emergency response applications and the Safe Workplace application suite. These tools help organizations manage the complex workflows required to keep employees healthy and workplaces safe – including management of testing procedures, social distancing, PPE inventory, and office configuration.
Now, McDermott said, ServiceNow is at the forefront of vaccine management, including distribution, administration, and monitoring. "This is about moving people from the idea of a vaccine to actually getting vaccinated," he said.
Walters added, "we're making an impact on not just the way that people work, but the way that people live."
Read More About