As the holidays roll around, the MeriTalk staff compiled a list of helpful technology gifts for agency employees.
In this digital age, there's a technology for everyone's passions. The gifts range from serious to silly depending on each agency's mission and technology needs.
National Security Agency
For the NSA employees, consider Gunnar Enigma Computer Eyewear, which protects against digital eye strain that can happen after hours of working on a computer screen. Prolonged exposure to the blue light in digital screens can lead to cataracts and age-related macular degeneration.
Federal Communications Commission
The FCC came out with many initiatives to increase access to broadband this year, which suggests that agency employee would value the gift of a Wi-Fi signal booster. The FCC knows how precious broadband can be and would love to receive a broadband amplifier.
State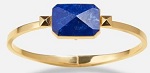 When State Department employees sit in important meetings with foreign officials, the last thing they'd want to do is check their phones for emails. Instead, they could discreetly check their rings with Ringly Smart Jewelry, which alerts the wearer when they have an important notification.
Read More About