The U.S. Department of State streamlined workflows and accelerated application development timelines with a cloud-based service management solution to support the needs of a remote workforce during the coronavirus pandemic.
Brian Merrick, director of the cloud program management office at the State Department, explained how a shift in the agency's mentality towards IT was crucial in ensuring success during COVID-19 at ServiceNow's 2021 Federal Forum.
With 275 overseas locations in addition to 50 domestic locations, and over 110,000 core users in its environment, the State Department is responsible for processing and providing critical data to locations all over the world. COVID-19 underscored the need for a rapid data provision and response system within the agency.
"We were asked to provide enterprise solutions to help our senior managers support rapid-fire decisions," explained Merrick. "We leveraged ServiceNow and other tools to provide a global decision-support capability of bringing critical data to help make decisions about everything – from repatriation flights for U.S. citizens to the status and readiness of our medical staff to support our citizens."
The State Department took the opportunity to maximize its efforts in technology modernization, replacing legacy systems and moving assets to the cloud.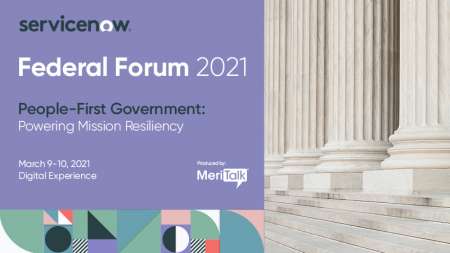 "We've got a good solid foundation now and we're able to more clearly align our assets with our problem, change, and incident areas," added Merrick. "We've adjusted to providing that global support customers expect."
Incremental change is the key to success with IT modernization, according to Merrick, who underscored the challenges of holistically changing an entire enterprise at once.
"We're taking a step-by-step approach and working with our business partners to identify and prioritize the actions and activities best aligned to cloud," said Merrick. "We also manage the operations and maintenance on the platform itself, which frees our business partners to focus in on their business process, reengineering work in their application layer work."
"This model means our partners can be even more deeply embedded with their end customers," he said.
According to Merrick, COVID-19 has marked the beginning of a new era in modernization. Data silos are breaking down and are being replaced by an emphasis on data sharing. The State Department now possesses a robust data analytics capabilities team, quickening the rate of processed data and leveraging as-a-Service platforms, including ServiceNow.
"Years ago, we'd be happy to get something done within a few months," stated Merrick. "During COVID, we rolled out 10 applications in a month – the average time for each one in terms of development was about a week."
Merrick attributes this increase in pace to a change in mentality within the agency.
"It comes down to skilled staff, understanding the business, and being tightly aligned with the data owners," said Merrick. "But you have to have an agile mentality to really make the most of a tool like ServiceNow when delivering on data."
For agencies seeking the same success in IT modernization, Merrick doubled down on the importance of staying people-focused – particularly for leadership.
"It's always easier when you bring people to the table and give them an opportunity to be a part of the solution," explained Merrick. "Senior management support is critical. Get your CIO out there, get leadership engaged, and you'll find it's definitely worth the time and the energy."
Read More About