President Donald Trump declared October 2017 National Cybersecurity Awareness Month.
"During Cybersecurity Awareness Month, we reflect on our Nation's increasing reliance on technology and the internet and raise awareness about the importance of cybersecurity," Trump said in a statement. "Keeping our nation secure in the face of cyber threats is our shared responsibility. Our agility and resilience in responding to these threats will improve as our collective awareness about their nature improves."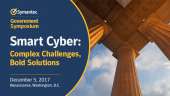 This announcement follows the Equifax breach in September, which affected about 143 million U.S. consumers.
Trump signed a Cybersecurity Executive Order in May in an effort to strengthen Federal cybersecurity and hold agency heads accountable for security issues.
"Through my Administration's cybersecurity policies, America and the world will continue on a path toward a more open and secure internet– one that fosters innovation and spurs economic prosperity," Trump said. "We will accomplish this while respecting privacy and preventing cyber disruption, fraud, and theft."
Trump said that this month companies should work together and share information in order to protect their networks. Trump also said that private citizens can use Homeland Security Department resources to learn how to secure their private information.
"I call upon the people, companies, and institutions of the United States to recognize the importance of cybersecurity and to observe this month through events, training, and education to further our country's national security and resilience," Trump said.
Read More About