A member of the Federal Communications Commission's transition team said that the FCC should modernize by moving away from thinking about wireless and wireline broadband individually and instead consider a "dynamic digital ecosystem."
Mark Jamison is an FCC transition team member, American Enterprise Institute contributor, Gunter Professor of the Public Utility Research Center at the University of Florida, and co-director of the World Bank International Training Program on Utility Regulation and Strategy.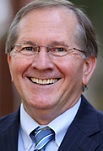 "The existing structure limits how people think, encourages regulations that limit innovation, and facilitates industry capture," Jamison wrote last week in a blog post.
The FCC did not respond to MeriTalk's request for comment.
Jamison said that instead of the current FCC structure, there should be a bureau of economics that analyzes the communications market, a bureau of engineering that analyzes spectrum and equipment licensing, a competition bureau that enforces rules, and a consumer protection bureau.
Despite the proposed change in structure, Jamison said this would not be enough to effectively modernize the FCC.
"Effective leadership will be needed to address the adaptive challenges of letting go of long-held traditions and embracing new values," Jamison wrote.
Jamison said he wrote a report 24 years ago that pointed out that separating telecommunications infrastructure was becoming outdated. However, the FCC still develops status reports based on fixed-line broadband and wireless broadband.
"As if wireless competition exists separate from all other modes of communication," Jamison wrote.
Wireline broadband does have distinct characteristics from wireless Internet connections. Since the FCC is waiting to see how wireless grows and develops, it hasn't mandated a speed benchmark for mobile Internet use. Jamison said this is outdated because many consumers rely on mobile devices to access the Internet.
"Happily, customers are not so stuck in the past," Jamison wrote. "Our laws should reflect this marketplace reality."
The FCC commissioners' numbers have been diminished with the new Trump administration because of Congress' reluctance to reinstate former commissioner Jessica Rosenworcel, and the retirement of former chairman Tom Wheeler. As the agency waits for Trump administration appointees, the FCC has two Republicans, Ajit Pai and Mike O'Rielly, and one Democrat, Mignon Clyburn.
Jamison said that one problem is that the commissioners have begun to think in these different silos rather than addressing them altogether. This is evident in Pai's blog post Thursday, which laid out his policy goals for the year, starting with wireless broadband and ending with radio. However, he also expressed a need for decreased regulation.
"Regulatory mandates have a disproportionate effect on small businesses," Pai wrote. "Accordingly, I've proposed reinstating an exemption for small Internet service providers from enhanced reporting requirements contained in the Title II Order. These rules impose unnecessary burdens on small businesses, many of which are critical to increasing competition in the broadband marketplace."
The Republicans agree with Jamison that a goal of this administration will be to overturn net neutrality rules. Since the commissioners have a quorum, they began making new policies at the first agency meeting Tuesday.
Jamison said the FCC should create rules that allow any person to purchase communications services from anyone else at any time, anyone to sell communications service using any legal technology, and no government activity or regulation should favor any one provider. Jamison said there should be no network restrictions, no technology restrictions, and no distortion of the telecommunications market.
Read More About