Federal IT pros clearly have their heads in the clouds–as government efforts increasingly focus on leveraging cloud computing to help support mission-critical workloads, securely and cost-effectively.
Against that backdrop, MeriTalk is continuing to work with Amazon Web Services on a weekly poll gathering Federal IT decision makers' thoughts on agency cloud adoption. We're looking to understand what's needed for a successful strategy, how cloud is impacting the agency culture, and what's needed to continue to push forward. Here are our findings from Month Two:
Cloud Strategies
While nearly half of Federal IT pros feel good about their agencies' cloud strategies, the rest of the community reports feeling anxious or uncertain.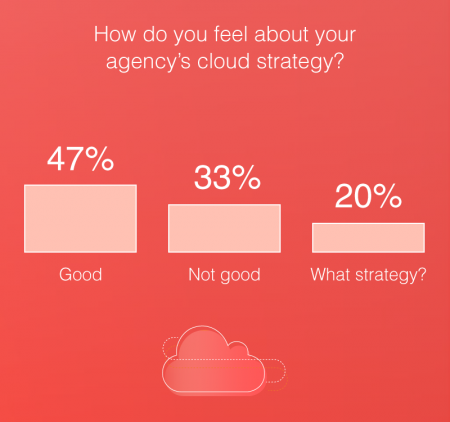 Feds are split on their agencies' cloud strategies–while almost half feel good about it (47 percent), 33 percent disagree. The remaining 20 percent aren't even sure their agency has a strategy. It's clear that executive leadership needs to do more to develop and promote their cloud plans and priorities, especially as 56 percent of Feds say executive leadership will be IT's most important partner in effective cloud migration.
Cloud Momentum
Federal IT pros believe cloud adoption is picking up speed.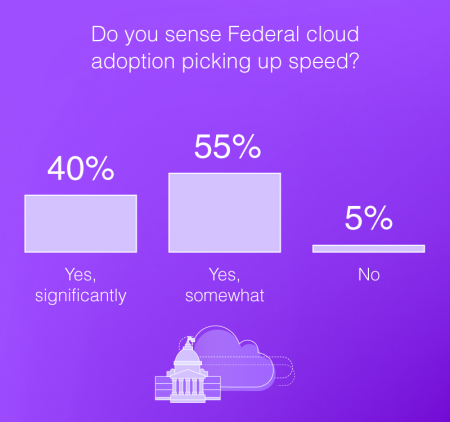 Almost all (95 percent) of Federal IT professionals say the pace of Federal cloud adoption is increasing–with 40 percent noting a significant shift in momentum.
Ninety-three percent of Feds are positive that GSA's Cloud Adoption Center for Excellence will improve government's collective cloud education. And most agree that a streamlined cloud procurement process will accelerate government cloud adoption–in fact Feds say it is three times more likely to help than an increase in cloud legislation or more employee training would.
Cloud Culture
Despite progress, Federal IT pros believe that a significant culture shift is still needed to establish cloud as the new norm.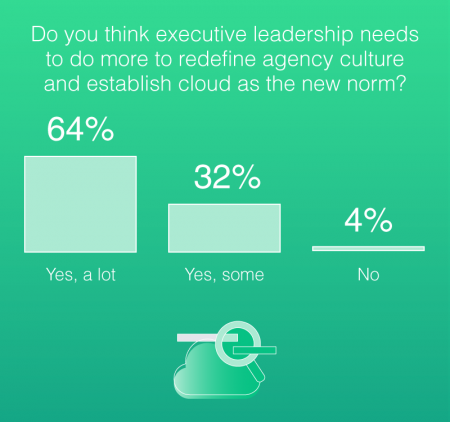 An astounding 96 percent of Federal IT professionals agree that executive leadership needs to step-up and do more to redefine agency culture–that it is their responsibility to establish cloud as the new norm. The good news? Nearly three-fourths of our study participants see government agencies actively collaborating and sharing cloud success stories–a vital step to accelerating cloud migration.
Everyday Impact
While Feds generally have a positive opinion on using cloud and most agree that the technology has improved in recent years, many Feds say the day-to-day impact is still in transition.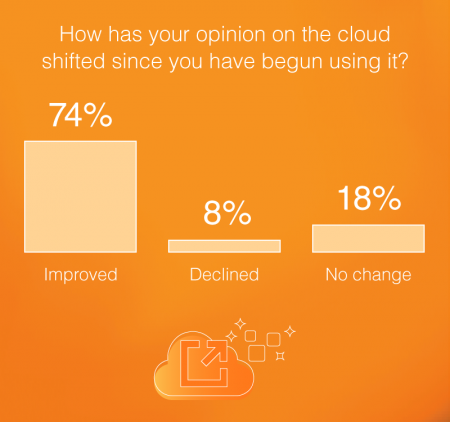 So far, it seems cloud has a varying impact on Feds' everyday stress levels–the responses are fairly split between more headaches (32 percent), fewer headaches (30 percent) and the remainder (38 percent) who have seen no change at all in their stress levels.
It's easy to see that cloud is evolving in the Federal space, but like everything, there are growing pains that need to be worked out. Agencies need to be more transparent about their cloud strategies, find ways to streamline the procurement process, and offer direction from Executive Leadership to help establish cloud as the new norm.
Do you agree or disagree with our survey findings? Share your thoughts and answer our next set of cloud migration questions. And check out our findings from Month One here.
Also, please visit aws.amazon.com/government-education/ to learn more about Amazon Web Services abilities to offer a flexible and secure cloud service–that allows innovation while also providing costs savings opportunities.
*Based on a weekly survey of more than 100 Federal IT professionals
Read More About