Can he really do that?
Federal records management regulations prohibit President Donald Trump from making climate change data disappear, despite the order to take down part of the website.
Environmental Protection Agency employees said that Trump ordered the agency to remove the climate change page from its website despite rules in place to preserve online information produced by agencies.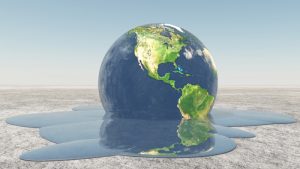 EPA employees were told Tuesday that the administration had instructed them to remove links to the page that contains links to global warming research and data on emissions, Reuters reported.
A spokesman for the EPA's transition team, Doug Ericksen, refuted the story, saying that the Trump administration is reviewing all "editorial" parts of the website for possible changes.
EPA administrators and directors are responsible for "ensuring records and other types of required documentary materials are not unlawfully removed from EPA by current or departing officials, employees, or agents," according to the agency's Records Management Policy.
"There's contradictory information being shared by multiple players here," Alex Howard, deputy director of the Sunlight Foundation, told MeriTalk.
EPA Deputy CIO Renee P. Wynn released the agency's Records Management Policy, which applies to records created in the course of doing agency business, received for action, needed to document EPA activities and decisions, required to support the EPA's financial and legal claims, and released to support EPA requirements.
Records that are shared via paper, email, instant messaging, text messages, telephone messages, voicemail messages, presentations, websites, social media, word documents, spreadsheets, and information systems have to be added to an electronic records management system, which is designed to track and store records. Therefore, the EPA's climate change data, although it could be taken off the agency's website, would still be available.
"There's a distinction between retaining scientific data within the agencies and keeping things on the website," Howard said.
The climate information can be taken off the EPA's website, but the data still needs to be available to the public by Freedom of Information Act request. In the past, Federal data collection programs have been stopped, but that information is still being stored, according to Howard.
EPA employees are responsible for "destroying records only in accordance with approved records schedules and never removing records from EPA without authorization," according to EPA's policy.
The agency records officer can grant waivers to any part of the records management policy for "sufficient cause." The officer must notify the party requesting the waiver of a decision within two weeks of the request. The policy does not say specifically how the EPA should handle an order from the White House to remove information.
The Federal Records Act is applicable to all agency records, including Web content and information about the management of websites.
The NARA Guidance on Managing Web Records, released in January 2005, dictates the treatment of information on Federal agency websites. The guidance said that the head of the agency is responsible for the agency's records management system and that the agency records officer is responsible for ensuring control over agency records. Agencies cannot delete Web records related to the operation of Federal websites without permission from the National Archives and Records Administration.
Web records that apply to these regulations include HTML-encoded pages, records generated interactively on the website, additional links to content, hyperlinks, website design records, website program operations records, software records, website statistics, and any copyrighted digital content.
NARA mandates that agency websites have reliability, authenticity, integrity, and usability.
NARA defines a reliable website as "one whose content can be trusted as full and accurate." The integrity of a website "refers to it being complete and unaltered." The EPA is being asked to remove a significant chunk of mission-critical research.
Agencies could be subject to litigation or liability because of inability to verify what was on its site at any given time, impairment of program operations because of lack of valid records, inability to produce records that document accountability and stewardship of materials posted to the agency website, dissemination of misinformation, financial losses due to the compromising of citizens' or government's rights, negative reactions from other parts of government, unfavorable media attention, or compromise of the agency's mission. Most of these problems result from technical glitches, according to NARA.
Maintaining records on climate change is an integral part of the EPA's mission, since the agency is tasked with protecting human health and the environment.
When agencies feel that the information on their websites is no longer needed, they can coordinate with NARA to schedule a time to take down and archive the information.
The NARA did not respond to a request for comment.
Ericksen said that EPA scientists will face a "case-by-case" review of their work before they're able to publish on the website during the Trump administration, NPR reported Wednesday. However, new EPA officials and the Trump team cannot get rid of existing work, according to Howard.
Howard said that climate change information will have a more difficult time getting space on the website, but research will continue.
"The reports…might continue to be produced but not published publicly," said Howard. "There is a higher probability that such things would not be available."
Read More About