Richard Staropoli, the Department of Homeland Security's chief information officer, resigned after about three months in the role.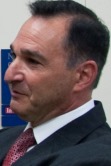 DHS confirmed that Staropoli will leave the role on Sept. 1, during which time Deputy CIO Stephen Rice will serve as the Acting CIO until President Donald Trump appoints a new CIO for the agency.
Trump appointed Staropoli, former chief information security officer at Fortress Investment Group, to serve as CIO in April.
Staropoli also served as managing director of counter-party risk for Fortress Investment, an international hedge fund with approximately $80 billion in assets under management based in New York.
"In this role, he established a formalized program for conducting investigative due-diligence across the firm as it relates to Credit, Real Estate, Private Equity and Liquid Markets deals relying on traditional and non-traditional investigative and intelligence gathering approaches," according to the White House.
Prior to working at Fortress Investment, Staropoli served as a Special Agent in the Secret Service for 25 years. He served in the Presidential Protective Division, the hostage rescue unit, and the Counter Assault Team during his time. Staropoli also served as the Chief of Polygraph Operations for the Secret Service.
Read More About