Department of Health and Human Services (HHS) officials discussed the significance of taking a "people first" mentality as the Federal government pursues modernization goals, at the 2021 ServiceNow Federal Forum.
HHS pursued wide-scale HR system modernization over the past several years. Their team supported employees – and the country – through the COVID-19 pandemic. Leaders say communication and close collaboration between IT and HR teams, and tight integration with stakeholders drives success.
"The key to our success has been our focus on understanding stakeholder priorities," said Bahar Niakin, deputy chief human capital officer and director for strategic initiatives at HHS. "We then establish shared priorities and work to cascade those across the organization together."
Nick Tzitzon, chief strategy officer at ServiceNow, noted that HHS has a diverse stakeholder set. He asked how the team enabled the engagement needed to meet modernization and mission goals over the past couple of years.
?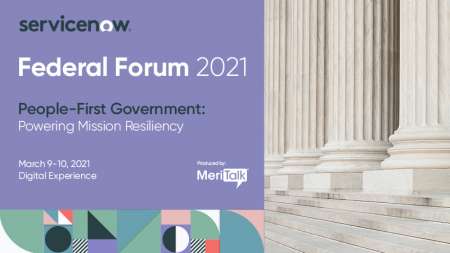 ?"We needed to do something different in the HR space," said Blair Duncan, deputy assistant secretary for Human Resources and chief human capital officer at HHS, adding, "we needed to come up with new, innovative ideas." Duncan said the team considered people first, and HR and systems second. This shifted the mindset from a focus on modernizing HR to modernizing how you deliver services to a client.
Duncan said they took things one step at a time as the organization modernized HR systems. "We didn't boil the ocean," said Duncan. "We did this methodically. We did pilots. We showed we could be successful on a small scale." This approach helped the team engage broader stakeholders, he said.
The pandemic, however, required the team to respond rapidly to new requirements.
"We had to take calculated risks," said Perryn Ashmore, CIO, HHS, and "we had to introduce new platforms, new technologies, in days, not years." He explained the team needed to consider if new solutions had to be operated across the enterprise or within a specific division.
Niakin noted there were two primary focus areas for the HR team through the pandemic – mission accomplishment and employee safety. "We held these two things as our truths through this time period."
She said the partnership between the Office of Human Resources and Office of the Chief Information Office was critical "because each of us can do our part, but we also realized that we're part of something bigger. And that is how we've worked as part of something bigger."
Using ServiceNow, the team was able to deploy a platform on top of the HHS HR Exchange platform within one week for all employees to ask questions, said Niakin.
"The people of this department have done so much and contributed incredibly," said Ashmore. "We understood the things we had to adjust," he explained, noting the importance of flexibility.
HHS teams and leaders understood they had to prioritize what to focus on in response to the pandemic, and decide which projects could be placed on the back burner. "We had to make these choices … we cannot do both of these things at the same time," he said.
Tzitzon observed that the HHS team was able to focus on big thinking and big ideas, without fears of limitations.
"What gives our department the ability to think in context of big ideas is that we know we have backing from the people around us," said Ashmore. "We trust each other. We're able to stick through things, to help people get over the hurdles and roadblocks and build reassurance that we're not just going to leave people hanging when something gets tough."
All speakers agreed that building trust and accountability is key to effective modernization, the ability to be creative, and the opportunity to pursue big goals.
"You've got to be bold," said Duncan. He emphasized that strategic planning and discussing new ideas have to be a continuous conversation. "Be bold … focused on the customer and what they need. And you've got to work as a team."
Read More About