The abrupt ousting Feb. 23 of Donna Seymour from the chief information officer post at the Office of Personnel Management has created a job opening that could have broad implications for the future qualifications and role of the Federal CIO.
Seymour, a 37-year veteran of Federal service, was liked by many on a personal level but was increasingly viewed as an overtly political policy wonk who lacked the leadership skills and the technical expertise to effectively manage the OPM data breach crisis. She also made enemies on Capitol Hill, where she came under fire for an inspector general report that accused Seymour of deliberately misleading and obstructing the IG's investigation into the 2014 data breach.
OPM insiders and analysts interviewed by MeriTalk agree that Seymour's successor will need to be a different breed of CIO—a leader capable of identifying the right wonks to advise them on policy issues, somebody with private sector business acumen, but also a team builder with unquestionable technological chops, and a significant background in cybersecurity.
"The huge data breach that has impacted Federal employees, contractors, and their references will be front and center as the [qualifications] of the next OPM CIO are discussed," said Vance Hitch, a former CIO for the Justice Department who now serves as an IT consultant for Deloitte. "Cybersecurity skills are important for all agency CIOs; but for OPM, they are critical to re-establishing trust."
Some observers point to Clif Triplett, who was brought in last November to serve as OPM's senior cybersecurity adviser, as a perfect example of the type of skill set that should be required by agencies when filling future CIO positions. Triplett, a former Army signals officer with a Master of Science degree in Computer Information Systems and three patents to his name, has 20 years of experience in various CIO posts, including stints at Motorola and the $20 billion oil services firm Baker Hughes.
But a recent study by Gartner paints an even more nuanced picture of what may be required of CIOs moving forward. "For all the hand-wringing about budgets, antiquated systems, and archaic acquisitions rules, the biggest impediments to faster evolution in Federal IT remain leadership and culture—the right leaders being able to effect change against the force of an entrenched culture," stated a research note written by Katell Thielemann, a Gartner research director specializing in Federal government issues.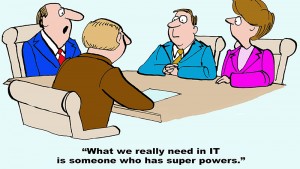 For the Federal government to dig itself out of the current legacy technology hole it has dug during the last 40 years, "agency IT leaders will need change management skills and business acumen as much if not more than technology knowledge," wrote Thielemann.
"Leading as a CIO, even though it's technically about information technology, I think most of the time it's about sharing a vision, setting boundary conditions, inspiring people to move forward, but then also doing the tactical thing of asking are we getting there on a daily basis," said David Bray, CIO of the Federal Communications Commission, in a recent interview with MeriTalk. "There's a lot of people who are really good at vision or really good at tactical, but not really good at both. That's why you want to surround yourself with a good team."
Trey Hodgkins, the senior vice president for public sector at the Information Technology Alliance for Public Sector (ITAPS), a division of ITI, cautioned that while the next CIO at OPM needs to have a solid technology education he or she will also need "strong policy and political chops" to succeed.
"We're rapidly moving into the realm of breaking" down silos, Hodgkins said, referring to the competing political interests within agencies that in the past have often defeated a CIO's best intentions. "We're in the middle of a very strong, dynamic shift as a result of FITARA," he said, referring to the Federal Information Technology Reform Act of 2014, which gave Federal CIOs new authorities.
But the OPM CIO job historically hasn't been one of the more influential CIO positions in government, said Alan Balutis, a distinguished fellow and senior director at Cisco. "It's two or three levels away from the director. That's not a good culture to build on and it needs to dramatically change," Balutis said. "The new CIO needs access to the director and needs to be a real force and change agent."
Hodgkins said it's not fair to judge a CIO like Seymour, who has served in government for decades, against a notional list of skills and capabilities that may be needed in the future. However, there are some areas that are becoming more prominent.
"Rotation in both government and industry is going to be important," said Hodgkins. "Anybody who hasn't done both won't have the experience necessary to be successful. The role has evolved."
And it continues to evolve. CIOs of the future should not only be capable of navigating disruption, but they should try to bring additional specialties to the job—like cybersecurity, cloud computing, Internet of Things (IoT), or agile development.
"Other important credentials will be improving the customer service experience and implementing shared services," said Hitch. "Of course, rock solid communications and management skill sets are essential for any CIO to be successful today. The first 100 days are really important and telling with respect to prospects for ultimate success for a new CIO."
And by the end of those 100 days, said Hitch, the new CIO should have:
Defined and communicated their priorities, with particular attention to cybersecurity;
Developed relationships with, understood the concerns of, and be able to influence key stakeholders;
Assessed their workforce needs and developed a talent strategy;
Developed a detailed action plan to attack priorities and a dashboard for transparently and clearly communicating status and accomplishments to stakeholders; and
Accomplished an initial set of recognized quick wins.
Read More About