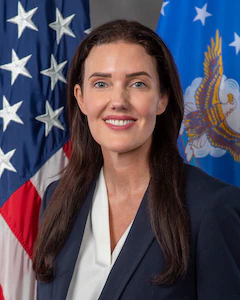 Alexis Bonnell, who late last month became the Air Force Research Laboratory's first chief information officer and director of its new Digital Capabilities Directorate, is viewing her new duties with a "bias to action … that lets me take risk, be curious, and lean in."
Bonnell comes to the new post with a wealth of government and private sector technology experience, including serving as emerging technology evangelist at Google Public Sector from 2020-2023, and a seven-year run at the U.S. Agency for International Development (USAID) that featured stints as Chief Innovation Officer from 2018 to 2020, and Chief of Applied Innovation and Acceleration.
At AFRL – which functions as the primary scientific research and development center for the Department of the Air Force – Bonnell "will shape the future of digital capabilities across the Air Force and Space Force, leading the strategic direction of the organization's information technology infrastructure and drive technological innovation across its operations," AFRL said when it announced her appointment.
The organization, which boasts a workforce of more than 11,500 people working across nine technology areas and 40 operations around the world, "plays an integral role in leading the discovery, development and integration of affordable warfighting technologies for our air, space and cyberspace force," AFRL said.
In emailed comments to MeriTalk shortly after beginning the new position, Bonnell said she is "excited about this role because of People, Place, and Period."
On the people front, she said, "I came here because the leadership recognizes that advancing digital capability is not a destination, there is no perfect solution, instead it's a journey from sustaining current capabilities to delivering novel solutions which achieve full spectrum dominance against emerging threats."
Commenting on the "place" aspect, she pointed to AFRL's role as one lab supporting both the Air Force and Space Force. "AFRL delivers solutions from the sky to the stars, balancing the known and the unknown across that vast dimension is a wicked challenge," Bonnell said.
And on the stakes at hand in the current time period, the CIO said, "We are in a fundamentally different moment, evolving from a largely analog battlefield to a digital battlefield, fundamentally changing national security."
"This 'exponential age' of rapid change and information driven advantage requires not just new technologies but also new mindsets and new ways of leading," she said.
"To achieve our potential, I hope to contribute to our information, security, decisional, and collaboration landscapes, bringing the right information, from the right place, at the right time, to the right leader," Bonnell emphasized.
"Most of all," she said, "my job is not to be the smartest person in the room, but rather make sure that the smartest people get in the room and that what they come up with we can action quickly and decisively."
"Alexis joins AFRL at a critical moment in time, as AFRL accelerates the generation and transition of cutting-edge technologies for our warfighters," commented Brig. Gen. Scott Cain, AFRL commander, in announcing Bonnell's appointment.
"With her visionary leadership and deep understanding of technology and how it can be harnessed to achieve mission success, she is poised to strengthen the culture of innovation and lead AFRL into a new era of digital capability," the general said.
Read More About