When Maria Roat became the chief information officer (CIO) of the Small Business Administration, she had a few goals to accomplish in the first year: Get on Microsoft Office 16 and Windows 10, get to four racks on the agency's data center, and move from copper to fiber.
For a small government agency, these goals were ambitious. In Roat's first month at SBA, a third of the agency's network was saturated. Roat partnered with Microsoft to make these goals a reality.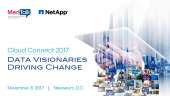 Microsoft announced on Oct. 17 that it plans to provide new capabilities on its government cloud offering, including security capabilities for data that's classified as secret, and blockchain capabilities.
Microsoft provided insight on migrating to the cloud by offering up their engineering talent to the agency. Roat established five tiger teams for cloud migration at SBA. Each team, although they specialized in different areas of the technology, also focused on the cybersecurity aspect of cloud. Roat said that wrapping her head around the cybersecurity of the cloud was easier than getting her team to agree to adopt the cloud.
"Getting my team on board was a little bit harder because a lot of them hadn't worked in the cloud space before," Roat said.
Roat took a tough love approach to getting employees on the same page in terms of cloud adoption.
"Get in the bus," Roat said. "This is where we're going. Otherwise you may get run over. I'm not sure."
Roat said that the IT team has drastically reduced its data center use.
"There were a lot of drivers to getting to the cloud and one of them was getting out of that on-prem data center."
Roat said that she's also working on getting rid of desktop computers and acquiring laptops.
"Burn the bridges behind you," Roat said. "We have to shut stuff down and turn things off and there's no going back."
Read More About