The formula isn't complicated, but the solution has eluded Federal employees for so long. How do you get citizens to appreciate government?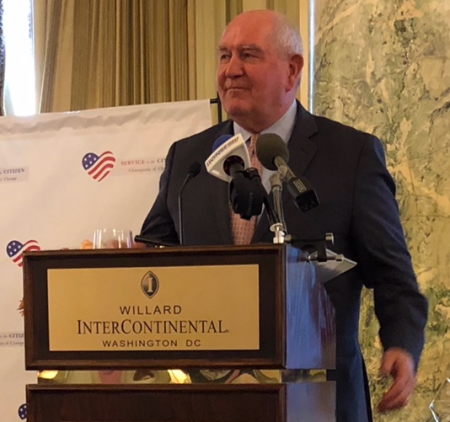 "They just want government to work. It's a simple objective, but it's not easy," said Agriculture Secretary Sonny Perdue this week upon being named Government Executive of the Year at the inaugural Service to the Citizen Awards.
The new program honors people that take the pain out of interacting with government. The former Georgia governor has been a key figure in the modernization of USDA services, but offered an anecdote that suggested these acknowledgements belong to everyone in government that keeps citizens in mind.
"If you're driving down the road and you see a turtle on top of a fencepost, you know he didn't get there by himself. I'm that turtle," Perdue said. "I'm frankly the beneficiary of a lot of really passionate employees at USDA."
The ceremony, two years in the making, is the passion project of Martha Dorris, a more than 30-year veteran of public service. A true turtle-topper and unsung hero, Dorris held various roles at the General Services Administration dedicated to the use of technology to improve citizens' interaction with government.
Packing the ballroom at the Willard Intercontinental on Tuesday to honor those continuing that mission seems yet another example of her dedication.
Federal government modernization heavy hitters were on hand for the ceremony, with GSA head Emily Murphy, and Office of Management and Budget's Director for Management  Margaret Weichert delivering rousing remarks in support of government leaders and industry partners who make life easier for everyday citizens. Stewardship, as Weichert has said on numerous occasions, is what will define government's path forward.
Tom Allin, former Chief Veteran Experience Officer at Veterans Affairs, and Brenda Wensil, the first-ever customer experience officer in government at the office of Federal Student Aid, were both honored as Government CX Trailblazers. Teresa Nasif, whose work in citizen service spanned seven presidencies, was honored with a lifetime achievement award. Lisa Veith, senior vice president at MAXIMUS Federal, was named Industry Executive of the Year.
The ceremony honored nearly 100 individuals for improving customer experience across agencies, including teams working on cloud and artificial intelligence initiatives, innovative online services, disaster relief and student aid, and even interdepartmental cooperation to root out a truly reprehensible case of fraudulent malpractice. The full list of honorees is available here.
Government gripes? We get it. We expect things to work, and technology services across the Federal enterprise don't always keep pace with private sector innovation. But perhaps, when we see the direct deposit receipt from our tax refunds, find online passport renewal a breeze, or read an inspiring account of selfless work, we can stop to remember that we are turtles on a fencepost, too. These are the folks that helped get us there.
Read More About